The Curse of the Mummy's Tomb
(1964)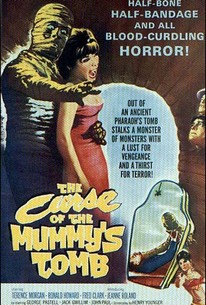 AUDIENCE SCORE
Critic Consensus: No consensus yet.
The Curse of the Mummy's Tomb Photos
Movie Info
Although not up to the usual classic standards of the Hammer horror features, The Curse Of The Mummy's Tomb has enough severed heads, hands, and blood to satisfy fans of the genre. Victorian-era archaeologists unearth an Egyptian tomb that is cursed, of course. The mummy and his sarcophagus is slated to go to a museum, but an American carnival owner manages to secure the bundle of bandages for his side show. Wherever the show travels, murders follow, as the descendant of the mummy seeks revenge against those who desecrated the tomb.
Critic Reviews for The Curse of the Mummy's Tomb
All Critics (2) | Fresh (0) | Rotten (2)
With so much misfiring in The Curse of the Mummy's Tomb, the absence of even a satisfyingly creepy mummy is an absolute film-killing flaw.
Audience Reviews for The Curse of the Mummy's Tomb
While definitely not as much a first-rate production as Hammer's first Mummy, Curse of the Mummy's Tomb has some great camerawork, nice supporting performances, and an intriguing mummy plot. Archaeologists financed by an American P. T. Barnum type find a lost tomb and open it despite the curse that says whosoever is present at its opening should die. Hammer production values prevail with lush costumes and sets. George Pastell(from the original) is back as yet another Egyptian naysayer out to prove that the British had no right to take and break the sacred nature of treasure and memory of forgotten kings. Michael Ripper, Jack Gwillim, and Fred Clark excel in their supporting roles, clearly out-performing the rather tiresome and boring leads of Terence Morgan, Ronald Howard, and Jeanne Roland. Clark gives an impressive performance(as well as very affable one) as the American out to turn his mummy find into carnival magic, taking the show to the "American Heartland" for a dime a peep. The story is not the fastest paced story around, but once the mummy's casket gets opened people die. Definitely worth a look for the mummy fan. 5 Stars 7-6-13
Bruce Bruce
Super Reviewer
The Curse of the Mummy's Tomb Quotes
There are no approved quotes yet for this movie.