The Deep
(2013)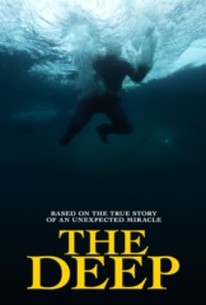 Movie Info
A Norwegian fisherman survives a shipwreck at sea, and wrestles with the guilt of being the sole survivor while being celebrated as a national hero in this affecting drama based on actual events. Iceland, Westman Islands: 1984. Gulli (Ólafur Darri Ólafsson) and his crew of seasoned seamen welcome a new cook into the fold before sailing out to sea on what appears to be a typical fishing excursion. With a chill in the air, the crew casts their nets into the frigid waters in hopes of netting a big catch. But when the net gets snagged, the boat capsizes, plunging the terrified crew into the icy, churning depths. Incredibly, as the rest of the crew parishes, Gulli somehow summons the strength to keep swimming until he reaches the shore. Later, as Gulli recovers, scientists speculate that no mortal man should have been able to survive such harsh conditions, and take him to a London research center for a battery of physical tests. Meanwhile, on the outside, the stout sailor becomes a symbol of national pride for a country that had endured great hardships over the past century. Haunted by the events of that fateful night, Gulli later returns home to comfort the children of his best friend and fellow sailor, and remember how it feels to lead a normal life.
Critic Reviews for The Deep
Audience Reviews for The Deep
A film of two halves; the first gripping and involving, the second wandering and melancholic, and honestly it's a bit of a slog towards the end (though rooted in a true story, The Deep's sudden change in direction is never really successful). The lead performance is fairly bland but the excellent photography is a huge plus.
Daniel Parsons
Super Reviewer
In 1984, a crew of fishermen set off from their small Icelandic island for what should have been another routine few days plying their trade in the North Atlantic Sea. This time however, their boat sinks, killing almost immediately, due to the freezing temperature of the water, every crew member except Gulli (Ólafsson), an overweight schlub. Gulli somehow manages to swim for six hours in the treacherously cold water, reaching his island and walking for another two hours before reaching reaching a house. When a doctor from Reykjavik watches Gulli tell his improbable story on TV, he takes him to a Royal Navy facility in London to conduct tests on how he survived an ordeal nobody else ever had. Following his American debut, 'Contraband', Icelandic director Kormakur returns to his homeland to tell the story of one of that remote country's modern folk-heroes. In Iceland, to this day, the fisherman occupies the sort of mythical status held by the cowboy in America. These guys are held up as supermen, braving some of the world's harshest conditions in order to earn a meager wage. While celebrating this lifestyle, Kormakur also de-mythologizes it. The crew of the trawler Breki are shown as a bunch of poorly educated drunks who would arguably be still alive if they treated their occupation with a bit more professionalism. The film is split in two halves, the first detailing Gulli's ordeal at sea, the second showing his baffling of scientists who fail to come up with an explanation for his unlikely survival. A confused Royal Navy doctor describes Gulli as having "seal fat", a rare moment of humor in this grim Nordic tale. This second half reminded me a little too much of the 'Simpsons' episode where Homer is discovered to be the perfect candidate for an astronaut, defying NASA scientists with his out-of-shape body's tolerance for extreme situations. When Gulli beats three Royal Marines in a freezing water endurance test, you can imagine Icelanders feeling an immense national pride at the fact that one of their out of shape drunks can beat the best the Royal Navy has to offer. Feeling often like a gritty reworking of M Night Shyamalan's 'Unbreakable', 'The Deep' holds your interest but, honestly, it's really just because the actual story is so fascinating rather than any great story-telling on the part of Kormakur. Technically, like most Nordic productions, it's a technically impressive piece of work and very well acted. Over the end credits though, we see archive footage of the real Gulli which only makes you wish you spent the previous 90 minutes watching a documentary version of this story instead.
The Movie Waffler
Super Reviewer
The Deep Quotes
There are no approved quotes yet for this movie.