The Devil's Eye
(1961)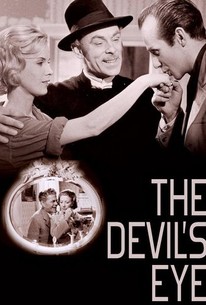 Movie Info
In this comedy written and directed by Ingmar Bergman, Satan sends Don Juan and his servant to Earth to seduce a virgin. The servant seduces the wife of a priest while Don Juan is rebuffed by the virgin. Her indifference causes him to fall madly in love with the girl.
Critic Reviews for The Devil's Eye
Audience Reviews for The Devil's Eye
½
Full disclosure - I tend to like movies with the devil in them. I also love brooding characters, and weighty questions about life and love, and this film has all of the above. The premise is that in keeping with an Irish proverb, the Devil has a stye on his eye because a woman is about to be married, but is still a virgin. In this case, she's the daughter of a vicar. He sends Don Juan and his sidekick back to earth along with a demon to oversee them, with the mission of deflowering her before the wedding. Things get complicated when Don Juan quickly develops real feelings for her, and his sidekick falls for and begins seducing her mother. Don Juan is brooding, hating both God and the Devil equally for the morality game they play. On the one hand he boldly says "the lack of principles is my principle, vice my virtue, debauchery my asceticism, godlessness my religion." On the other hand, he betrays real sadness when he says "Those capable of love are very few. Their suffering has no limit. I am told they are mirrors which reflect God, and make life easier for us wretches in the dark." Such brilliant dialog is Bergman at his best. The vicar's wife is a complicated character as well - wondering about her husband's love, whether he would be sorry if she died, and telling him that life "is like a comedy - you see me in one part, others see me in another. No one sees my real self", as she seriously ponders whether to sleep with the sidekick. Such a poignant scene, especially as the vicar is a paragon of virtue, desperately wanting to understand her, saying he'll still love her if she sleeps with another, and later overcoming the demon's temptation to try to catch her in the act. So both women, mother and daughter, are faced with the temptation of adultery - one just before her marriage, and the other in middle-age. Both are swayed by pent-up passion, sweet words, and pity - but their feelings and actions are far from simple. Will love be enough to shield them from temptation, even when it truly touches their hearts? I won't spoil it. In addition to all of that, I loved the little touches in the movie, including the ministers in hell advising Don Juan on the art of seduction, the demon morphing into a black cat, and the punishment of Don Juan in hell which consisted of nightly dreams of rendezvous with sensuous women, only to be woken up before he could get his satisfaction ("the performance is over, Don Juan"). One of his later punishments is somewhat shocking given the movie was made in 1960 - he's forced to listen to a demon gives a play by play description of the sounds the one woman he cares about is making while having sex, starting with her panting and ending in an orgasm so violent she's weeping tears of joy. My goodness. Playful, weighty, sacrilegious, creative, well cast, and well filmed - 'The Devil's Eye' may not be Bergman's best movie but it's quite good. I think it's unfair to knock it down based on his other classics - imagine if it was made by someone else! But no, with all of the elements we see here, this is distinctive Bergman.
Antonius Block
Super Reviewer
½
Being one of Ingmar Bergman's rare comedies, "The Devil's Eye" doesn't get discussed much. But who could resist a Bergman film about Satan and his minions? Adapted from a play, "The Devil's Eye" finds the Prince of Darkness (Stig Jarrel) tormented by a painfully infected eye. Why? Because the unthinkable is about to happen: Beautiful maiden Britt-Marie (Bibi Andersson) is set to marry her true love Jonas, and her virginity is still righteously intact. Such happy endings will not do. So, Satan pulls Don Juan (Kari Julle) out of his private Hell (his sentence is to charm woman after woman, only to have them vanish when sex is imminent) and assigns him a limited time back on Earth to seduce poor Britt-Marie. His attendant Pablo (Sture Lagerwall) tags along, plus a crotchety demon chaperone (Ragnar Arvedson). The latter spends most of his time on the surface disguised as an ordinary black cat. Once Don Juan manipulates his way into the home of Britt-Marie and her parents, he quickly gets to work. As if the situation weren't tangled enough already, depraved Pablo soon falls for Britt-Marie's restless mother. The ineffectual father -- who also happens to be the town vicar -- is bewildered, but eventually strikes back against his wicked visitors. There are no great truths revealed in this light tale, but it does benefit from a morally ambiguous ending with a tart aftertaste. If there's any significant problem, it's the casting of Lagerwall, who just seems too old and homely to play such a lusty, irresistible scoundrel. Bergman favorite Gunnar Bjornstrand turns up in a puzzling Rod Serling guise, adding intermittent onscreen narration that doesn't seem particularly necessary.
Eric Broome
Super Reviewer
It's funny, so to speak, that Bergman's most touted dark drama has its wealth of light and even comedic moments, and vice-versa in the case of Devil's Eye. For the much-touted movie I mean The Seventh Seal, where we get much ado about the existence of God or lack thereof and Death looming large, but it's also got its share of laughs and unintentional witty dialog. It's a major work and without much argument the quintessential work of the filmmaker. On the other hand, we get The Devil's Eye, which is more of a minor work, done by Bergman, admittedly, as a work-for-hire project in order to direct the Virgin Spring that same year. It's a comedy, as we're told right from the get-go by the 'narrator' of the story Gunnar Bjornstrand about the old 'sty in the eye' proverb where Satan will deflower a virgin to get rid of it (in this case he sends Don Juan, whose been spending 300 years in a loop of the same failed courtship in hell with his compadre Pablo, to do it for him on a Nordic girl about to get married). And yet this comedy of sorts, which is filled with sly moments and turns of performances that are uncharacteristically campy for a Bergman film, also has some dark connotations about infidelity and desire and love in the face of evil. It might be a minor work, but it's probably one of the director's strongest and most underrated. In fact, I'd wager that Bergman put more work into this than he'd even care to cop to: the design of hell itself is ingenious, akin to the No Exit set with Satan in a suit and cool but firm demeanor played by Stig Jarrel, and a constant flame burning behind his quaint book-room setting, and his servants being prissy-looking chaps out of some French royal palace. Bergman also casts this really wonderfully, with Don Juan played by Daniel Craig-look-alike Jarl Kulle with his suave demeanor but sad interior coming out some of the time, and Nils Poppe (who also played the cheery Virgin-Mary hallucinator Jof in Seventh Seal) as the aloof Parson whose daughter is to marry/possibly be seduced. Bergman also gets some laughs and some surprisingly tender scenes between the Parson's wife Renata and Pablo and the Demon put on assignment by Satan to keep watch on Pablo only to end up in 'Satan's Closet' that the Parson has set up for just such an occasion. It's clever on top of this that the intended goals are reversed in the scope of Britt-Marie (Bibi Andersson) and his mother Renata in terms of their seductions and falling from graces. There's a lot of devilish (some pun intended) fun to be had I wouldn't want to reveal, but suffice to say that Bergman has his cake and eats it too: he crafts a pleasurably stylish picture loaded with his intriguing and occasionally deep conversations about love and the nature of Heaven and Hell and Satan and God. It may be 'light' material, but in its own limitations it's a more satisfying effort than the good but overrated Wild Strawberries.
Cassandra Maples
Super Reviewer
The Devil's Eye Quotes
There are no approved quotes yet for this movie.