The Double
(2014)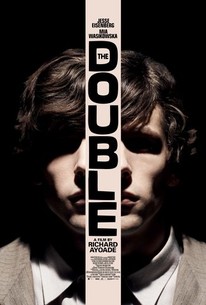 TOMATOMETER
AUDIENCE SCORE
Critic Consensus: Hauntingly bleak and thrillingly ambitious, The Double offers Jesse Eisenberg a pair of compelling roles while reaffirming writer-director Richard Ayoade's remarkable talent.
Movie Info
Eisenberg plays Simon, a timid, isolated man who's overlooked at work, scorned by his mother, and ignored by the woman of his dreams (Wasikowska). The arrival of a new co-worker, James (also played by Eisenberg), serves to upset the balance. James is both Simon's exact physical double and his opposite - confident, charismatic and good with women. To Simon's horror, James slowly starts taking over his life. (c) Magnolia
People Who Like this movie also like
News & Interviews for The Double
Critic Reviews for The Double
Audience Reviews for The Double
This atmospheric and visually stylized psychological thriller based on Dostoevsky brings to mind Kafka, Hitchcock, Brian De Palma, Orson Welles and even David Lynch in the way it makes us share the unsettling existence of a shy man who is forced to confront his loneliness.
Carlos Magalhães
Super Reviewer
No better pairing could exist than having an adaptation of Dostoyevsky directed by Richard Ayoade. One is absurdist and nearly dystopian, the other whimsical in a deliberate way. With grim settings, on edge characters, and a premise that belies logic for a sense of anonymity, "The Double" is a weird, wondrous ride through the mind of an invisible cog in a strange machine. Featuring Eisenberg in dual roles, he is both uncouth and barely audible, shamelessly self-promoting and irresponsibly obtuse. Other great performances come from Wallace Shawn as a near sighted boss, Mia Wasikowska as the love interest, and Cathy Moriarty in a great cameo as a waitress. Though much of this is engrossing, I would say the level of thoughtfulness sometimes overshadows the action, as it feels like a calculated thought experiment, more than a plot driven farce. What makes this film an interesting watch is the palpable tension between what's real and what's not, what's fair and what's not. It's outrageous in its simplicity, and depressing in its realism. Highly recommended for those with a quirky sense of humor, a love of the absurd, and a need for something intellectually stimulating.
Spencer S.
Super Reviewer
Pretty yawn-inducing till it's halfway through, then gets a bit interesting for a while before it finally loses the steam again.
familiar stranger
Super Reviewer
The Double Quotes
| | |
| --- | --- |
| Janitor: | Where you going? |
| Simon James/James Simon: | Fuck off! |
| Janitor: | Oh hey, James |
| | |
| --- | --- |
| Hannah: | You probably think I should be thankful that you took me to the hospital, but I'm not. I wanted to die and now I'm afraid I won't have the courage to try again. Do you wanna know what I think? I think that you should kill yourself. I promise I won't try to stop you halfway through. |
| | |
| --- | --- |
| Simon James/James Simon: | I don't know how to be myself. It's like I'm permanently outside myself. Like, like you could push your hands straight through me if you wanted to. And I can see the type of man I want to be versus the type of man I actually am and I know that I'm doing it but I'm incapable of what needs to be done. I'm like Pinocchio, a wooden boy. Not a real boy. And it kills me. |
| | |
| --- | --- |
| James Simon: | You can't be doing anything gay. No ice cream cones. |
| Simon James: | But I like ice cream. |
| James Simon: | Of course you do, it's delicious. Ice cream is fine in a cup, but in a cone it's gay, unless you're with a woman at the time. |
| Simon James: | Anything else? |
| James Simon: | Riding in a motorcicle with another man. The only exceptions are: drive-by shootings, bomb-throwings and purse snatchings. Anything else is gay. |