Equalizer 2
(2018)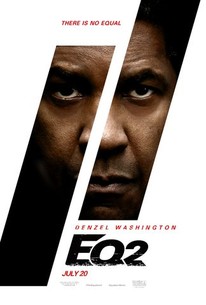 TOMATOMETER
AUDIENCE SCORE
Critic Consensus: The Equalizer 2 delivers the visceral charge of a standard vigilante thriller, but this reunion of trusted talents ultimately proves a disappointing case study in diminishing returns.
Movie Info
Denzel Washington returns to one of his signature roles in the first sequel of his career. Robert McCall serves an unflinching justice for the exploited and oppressed - but how far will he go when that is someone he loves?
News & Interviews for Equalizer 2
Critic Reviews for Equalizer 2
Audience Reviews for Equalizer 2
Denzel Washington is sixty-three years-old and will be sixty-four this coming December. I can recall taking note of this fact when writing about the first Equalizer film when Washington was about to turn sixty and how impressive it seemed that the guy had no intentions of slowing down. In the interim between that 2014 film and what is the first sequel one of the world's most charismatic actors has agreed to be a part of, Mr. Washington has still shown no signs of slowing down. Since The Equalizer Washington has already paired with director Antoine Fuqua (Training Day) again prior to this latest entry with their remake of The Magnificent Seven which I found to be immensely entertaining as well as having adapted, starred in, and directed August Wilson's seminal piece of work in Fences for which he was shrouded in awards love. And again last year, the actor earned another Best Actor nomination for his work in Dan Gilroy's quirky, but largely effective Roman J. Israel, Esq. (which I probably liked more than you). The point being, each of these gave Washington the chance to continue to do what he loves as he flexed a different muscle in regard to each respective project, but the choice to return to the character of Robert McCall among every character Washington has played is a curious one. I enjoyed The Equalizer upon initial release and was happy to find it wasn't simply another case of an aging star attempting to cash in on the Liam Neeson-proven method of combining a once valuable name on the poster above a newfangled action-centric conflict. Of course, Washington was never relegated to being a star whose name ever lost any value. Denzel is Denzel and no matter what he does people typically turn out in fair enough numbers to justify his mid-range action projects and awards contenders. In fact, since 2009 (which accounts for Washington's last ten films), the star has never seen less than a $50 million lifetime gross with the exception of Israel last year with seven of those ten releases doing over $70 million worth of business during their theatrical runs. Denzel, the man, is typically all the brand recognition that is required and so it feels weird that Washington has been brought into this fold of sequels and franchises. Maybe it's just the first time someone has offered the actor a follow-up to one of his projects or maybe it's just a sign of the times. Whatever the case may be, The Equalizer 2 isn't exactly what one might hope for in a "first" from Denzel Washington, but more it plays into what the first did more to subvert in not being your by-the-numbers action flick as this sequel, with nowhere else to go, had no choice but to surrender to the trend. read the whole review at www.reviewsfromabed.com
Philip Price
Super Reviewer
½
The "Equalizer 2" doesn't stray far from the formula established is Fuqua and Denzel's first foray, and as such there is entertainingly familiar fun to be found. But the routine is also frustrating considering "The Equalizer 2" does little to elevate itself above what we saw in the first. Solid filmmaking and central performance still apply, but the side characters and central villain are more predictable and less memorable. A competent and harmless disappointment, and the sort of sequel Netflix was made for.
The Equalizer 2 is lucky that the threshold for entertainment is just low enough to cover even middling affairs where Denzel Washington dishes out righteous justice to the cocky criminals and ne'er-do-wells of the world. This is very much a strict formulaic second entry for 2015's original movie, based on the TV series. It's lesser in just about every regard although it returns Washington, director Antoine Fuqua, and writer Richard Wenk. It's hard not to feel like a paycheck venture where everyone went on some autopilot. The plot takes a bit long to get into gear and it's desperately missing the first movie's lead mob investigator to create an enticing game of cat and mouse. I miss the gradual escalation, as Washington's character gets in worse and worse trouble as he moves up the ranks of the Russian mafia. I would actually say Equalizer 2 is a movie that peaks in its first act (my favorite moment was an episodic dishes of violent retribution with a group of arrogant sexual assaulters). There just isn't anything truly memorable here. The action can often feel murky with how it's been photographed, and there is the occasional questionable quirk that would take me out rather than fully engage (baking flour is combustible now?). There is a satisfying storyline where Washington reaches out to an at-risk youth to dissuade him from joining a gang. It has some nicely drawn character moments that feel meaningful, but then it's back to the grind of whatever an Equalizer movie means in the twenty-first century. I enjoyed the first Equalizer as a modern-day Canon action vehicle with some pretty sickly entertaining deaths and taut action/suspense sequences. It was a movie that made its presence felt beyond Washington's cool charisma. With the sequel, all we're left with is Washington's charisma performing the heavy lifting. Nate's Grade: C+
Nate Zoebl
Super Reviewer
Equalizer 2 Quotes
There are no approved quotes yet for this movie.