The Foreigner
(2017)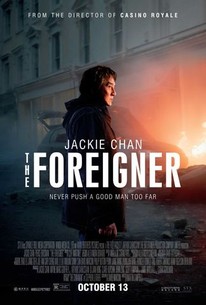 TOMATOMETER
AUDIENCE SCORE
Critic Consensus: The Foreigner adheres strictly to action thriller formula, but benefits from committed -- and out of character -- performances from its talented veteran stars.
Movie Info
The Foreigner, starring Jackie Chan and Pierce Brosnan, is a timely action thriller from the director of Casino Royale. The film tells the story of humble London businessman Quan (Chan), whose long-buried past erupts in a revenge-fueled vendetta when the only person left for him to love -- his teenage daughter -- is taken from him in a senseless act of politically-motivated terrorism. In his relentless search for the identity of the terrorists, Quan is forced into a cat-and-mouse conflict with a British government official (Brosnan), whose own past may hold clues to the identities of the elusive killers.
News & Interviews for The Foreigner
Critic Reviews for The Foreigner
Audience Reviews for The Foreigner
The Foreigner, starring Jackie Chan and Pierce Brosnan (not to be confused with a movie of the same name starring Steven Segal from the early 2000's) delivers a moderate to above-average action thriller, which leans a bit more toward a drama than anything Chan has done in his career. It's a great counter-character spot for Chan, who's been heavily involved with mixed martial arts films, comedies (involving the former), and fly-by-the-seat-of-your-pants action films with big budgets. Some audience members may have walked in expecting just another run-of-the-mill kinetic movie from Chan but instead were treated to something perhaps a bit more invigorating. Chan can act. While his English still isn't anywhere near as accomplished as his training in martial arts is (he's 65 and has lived in the US for how long now?), this role offers him an opportunity to dive into a character where dialogue isn't needed as his top attribute. We forget about Chan's range because the first thing to pop in our heads when we hear his name are the stunts he does himself and the incredible kung fu he knows. Insert Pierce Brosnan, who Campbell lays at the feet most of the important 'acting'. It's a reunion of some sorts considering it was Campbell who reinvigorated the Bond franchise with GoldenEye back in the late 90's. (he then did it again in 2006 with Casino Royale) Brosnan goes full-on Irish politician with some skeletons in his closet, which allow for some diversified reactions rather than just the same old hum drum responses one would expect. I'm not sure him and Chan worked as well on screen in scenes together as it came across on paper, but their interaction was thankfully limited to separate scenes over the phone. The plot won't break any new ground in the action/drama/thriller genre. We hit all the necessary points in the formula for this. It's a nice, tidy tale of revenge. Where the movie really could have taken off, Campbell steers straight instead of veering into any real characterization for anyone else outside of Chan and Brosnan. While it's nice to see Chan act outside his element and Brosnan to be in a film where I don't immediately need to say "he should have stuck to Bond", The Foreigner can hold your interest from a talented director and cast if you can overlook the cookie-cutter story.
Lane Zieben
Super Reviewer
½
Jackie Chan just keeps fuckin' bringing it doesn't he? The serious tone of The Foreigner fits him well, but the role he plays seems oddly shoehorned in. I understand that the movie is in actual fact based on a novel called The Chinaman, which I assume unfolds more or less as the film does. But the Troubles-themed Political Drama makes up most of the runtime in The Foreigner, and the Action/Revenge Thriller element seems almost like at some point in pre-production the crew went "Holy shit, did you know we can put Jackie Chan in this? Quickly! Write him a role!". Although I'm sure that it's not the case, that is how it feels, and while the Action/Revenge Thriller element is the best part of the movie, its failure to mesh with the piece at large does bring it all down a bit. Still a worthwhile watch if you're a fan of the Chan.
½
Martin Campbell directs and so, a pro effort from first to last. The script? Okay, so the script is a steal from The Taken series, but everything else, including the execution is the goods. Jackie Chan downplays his usual over-the-top schtick for a decent serious effort and Pierce Brosnan is solid as a politician trying to get things moving towards change. A thriller, yes, but a well done effort.
Kevin M. Williams
Super Reviewer
The Foreigner Quotes
There are no approved quotes yet for this movie.