Free State of Jones
(2016)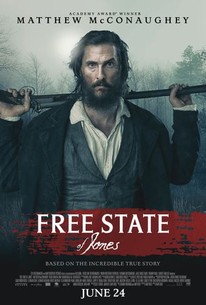 TOMATOMETER
AUDIENCE SCORE
Critic Consensus: Free State of Jones has the noblest of intentions, but they aren't enough to make up for its stilted treatment of a fascinating real-life story.
Free State of Jones Videos
Free State of Jones Photos
Movie Info
Directed by four-time Oscar (R) nominee Gary Ross and starring Oscar (R) winner Matthew McConaughey, Free State of Jones is an epic action-drama set during the Civil War, and tells the story of defiant Southern farmer, Newt Knight, and his extraordinary armed rebellion against the Confederacy. Banding together with other small farmers and local slaves, Knight launched an uprising that led Jones County, Mississippi to secede from the Confederacy, creating a Free State of Jones. Knight continued his struggle into Reconstruction, distinguishing him as a compelling, if controversial, figure of defiance long beyond the War.
News & Interviews for Free State of Jones
Critic Reviews for Free State of Jones
Audience Reviews for Free State of Jones
You know, I'm gonna repurpose a phrase I attributed to Winston Churchill in my review of The Hatred, a terrible movie. In that review, I mentioned that the Churchill said, whether he actually DID say it or not, that the only good Nazi is a dead Nazi. Well, like I said, I'd like to repurpose that to fit this movie in saying that the only good confederate soldier is a dead confederate soldier. Talk about a cancer to the country as a whole and the revisionist history some in the south still engage in to this day in order to support their confederacy. 'Oh, they were really fighting for states' rights', 'you know black people fought for the confederacy', as if somehow the latter point makes the fact that these fucks wanted to keep their slaves any less morally reprehensible. I suppose that's neither here nor there, my political leanings are irrelevant when it comes to this movie. Having said all of that, however, this is definitely an interesting movie that tells a worthy story about Newton Knight, a rebellious confederate deserter, along with fellow hardworking people and escaped slaves in order to, basically, be free of the shackles from both the confederates and the union. With that said, and I know this is gonna upset some of you 'the south will rise again' assholes out there, the fact of the matter is that Newton and his group of people, fight mostly against confederate forces and the confederate soldiers and this lieutenant are treated as the big bad of the movie. The union really aren't featured as characters, they're an ancillary presence, only mentioned in conversations and never actually seen outside of the first scene in the movie. Though the union plays a small part in some of the narrative proceedings, like in the aftermath of the emancipation proclamation. There's also a legal proceeding where Newton's grandson, who's 1/8th black, being threatened jail time as his marriage, given that he is considered a colored person (despite being whiter than Donny Osmond) is illegal under Mississippi law. At first you're like 'what's the point of all this?' and, really, by the end of the movie, you're also like 'what's the point of all of this?' I mean I get that what they were going for is that, in spite of what Newton Knight did in the 1860s-70s, in order to help his fellow man secure freedom, in order to protect his friends, former slaves, from being forced back into the same life, except under a new name and legally sanctioned. These are known as Black Codes. They disguised slavery as 'apprenticeship', because that's how low these fucks can get. They pass laws prettying that are, basically, slavery with a prettier name. Regardless, the point is that no matter how much Newton fought and no matter how much he managed to change things, they have still stayed the same for generations. Racism is as rampant as ever, thanks to the current dumbfuck troglodyte the US calls its president. Anyway, I get the point they're trying to highlight, showcasing how things aren't that much different in the 1940s, in Mississippi, than they were in the 1860s and 70s. But I think that they manage to achieve that with the post-emancipation proclamation stuff, which leads to white unrest in the south that, eventually, leads to the rise of KKK. I get the need to show that racism is being felt generations after Newt's passing, but the scenes with Davis Knight (his grandson) didn't amount to much to me. With that said, I do think that there are flaws in the movie that, ultimately, end up dulling the impact of Newton's incredibly worthy story. I will admit that the best parts of the film are those in which Newton rallies his fellow followers in taking the fight to the confederacy and how his leadership, mostly, unites everybody. There's still some of the old guard, of course, which leads to some unrest and unease between them and the black people in the group. The group, which starts out very modestly but starts growing in size and power as the film progresses, eventually comes to control three counties in Southeast Mississippi (if I remember correctly). Perhaps one of the issues I had with how this revolt of Newt's followers against the confederacy was portrayed was how it felt like they were just pranking each other. What I mean by that is that there doesn't seem to be any real rhyme or reason to what they were doing. Sometimes you're thrown into battles between Newt's group and the confederacy and you're literally given no context as to what led to this battle. Hell, sometimes prank videos on YouTube have more context to explain this prank than this movie did, at times. It's not like this for every battle, but it is like this for some of them. Another issue I had is that, naturally, real life came rolling through this war with the aforementioned emancipation of slaves, the movie just sort of shifts focus quite abruptly. What had first been a, mostly, historical 'war' movie, if I can say that, turns to a more political drama exploring the aftermath and how freedmen were, after a while, forbidden to own land and slave owners were allowed back in business if they swore allegiance to the union. I'm not saying that the more political stuff is bad but, again, I do think it is a fairly jarring shift. I get that life can be incredibly abrupt, but this is a film, they could have done a far better job at transitioning to that, instead of doing it so forcefully. With that said, however, I do feel that this is still a fairly good movie with a great cast, headed by a committed performance by Matthew McConaughey. Mahershala Ali is also very good in this movie, but I just wish the movie would have explored their friendship on a deeper level than they did. Mahershala Ali is so good that he can make his role memorable, but I just wish they would have explored that friendship, whether Moses himself is a composite character or not. I legitimately did like this movie and it's got an incredible true story at its core, it's just a shame that the movie, whether through scripting, pacing or whatever, dulls some of that impact. I'm not gonna complain much, however, given that I thought this was still a good movie and I would recommend it if you're into this sort of story. It's not gonna be for everybody, particularly piece of shit racists, but I enjoyed this movie and, given that this is only the second good movie of the month, I welcome the bump in quality.
Jesse Ortega
Super Reviewer
½
Matthew McConaughey stars in the extraordinarily compelling biopic the Free State of Jones. The film follows the life of Newt Knight, a medic in the Confederate Army who deserted to protect his hometown from looters and ended up leading a rebellion made up of deserters and runaway slaves. McConaughey gives an excellent performance and brings a lot of charisma to the film. However, the storytelling is a bit problematic, as it takes on too much; skipping around a lot and working in a subplot about Newt's great-grandson. However, the production values are especially good, giving an authentic look and feel for the time period. And the drama is really intense and exciting. Free State of Jones has a few problems, but overall it's a compelling film about a fascinating piece of American history.
Dann Michalski
Super Reviewer
"Free State of Jones" is an interesting history lesson -- although lacking the panache and dynamism of an actual history lesson. The script is plodding and unfocued, and the story is puzzlingly episodic. The costumes and locations are good, but McConaughey oozes contemporary morality and seems ill-suited for this period piece. The only noticably good acting was from Mahershala Ali. The film might have as lief been entitled "Talent-Free State of Jones". Spend your ticket money on popcorn and just hang out in the theater lobby, kids. This one's a stinker.
Christian C
Super Reviewer
Free State of Jones Quotes
| | |
| --- | --- |
| Newton Knight: | From this day forward we declare the land of Pascagoula swamp to be a free state of jones. |