The Fury of a Patient Man (Tarde para la ira)
(2016)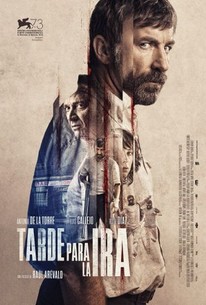 The Fury of a Patient Man (Tarde para la ira) Photos
Movie Info
Madrid, August 2007. CURRO was the onl one arrested for the robbery of a jewelry store. Eight years later, his girlfriend ANA and their son are waiting for Curro to get out of prison. JOSE is a solitary and reserved man who just doesnt seem to fit in anywhere. One morning he goes for a coffee at the bar where ANA and her brother work. That winter his life gets interwoven with the others at the bar, who take him in as one of their own, and especially with Anas, who sees this newcomer as a possible outlet for her distressing life. Upon completing his jail sentence, CURRO gets out with the hope of starting his life with ANA over again. But everything has changed in just a very short time. CURRO will find himself with a confused woman, and a man who shatters all his expectations. He cant even begin to imagine the extent to which JOSE is going to alter his plans. This stranger will force to him to confront old ghosts from the past. Both men will undertake a strange and frantic three-day trip, a violence filled journey that will force them to live together, to play a game of relentless confrontation, and will inevitably make them understand each other and sink the, beyond redemption into an abyss of revenge. A story about the violent nature of human beings and the illusion of redemption.
Critic Reviews for The Fury of a Patient Man (Tarde para la ira)
Audience Reviews for The Fury of a Patient Man (Tarde para la ira)
½
Maybe my memory is faulty, but I don't think I've seen a road trip murder movie. I really haven't. It wouldn't surprise me if there was a movie like that already employed this style of narrative, but I've just never seen it. Revenge films are tricky to pull off in that you have to skirt that line between exploitation and an actual story of a human being pushed so far to the edge that the only way they can let out their anger is to harm/kill those who made him/her wronged them (or killed one of their loved ones) in the first place. Oldboy is a perfect example of a revenge film where it focuses more on the characters and not necessarily on the psychopathic rage the protagonist felt toward the person who wronged him. And Oldboy being the way it was, the protagonist and the person who wronged him aren't always who you think they are. Which brings us to this movie, that has a more subdued style when it comes to telling its story. At least for the first 45 minutes. Jose is a very quiet man who starts to romance this woman at this local bar he goes to. What she does not know, however, is that his intentions are certainly not pure to say the least. This woman is the girlfriend of this man who was the getaway driver for this jewelry robbery gone wrong. One people ended up dead and the other person has been in a coma for 8 years. The getaway driver was the only one of the group who went to prison for the crime, as he didn't give his partners up. Jose wants to meet this man in order to know who actually killed his girlfriend and put his father in a coma in order to exact revenge on them. To get this man, Curro, to go along with his plan, Jose threatens his wife and his son, who was conceived as a result of a conjugal visit. Jose won't actually do anything, at least if his personality is any indication. But he needs Curro to go along with him and do what he wants. The story is fairly simple, but I think it's a strong story of a man holding on to his rage for EIGHT years in order to make those who killed his loved one and put his father in a coma pay. Jose even looks at the CCTV footage of the attack, where his fiancee has her face brutally beaten with a baseball bat. Jose is a man that has kept that image alive for eight long years, waiting until his chance finally came to exact revenge. And I think that's what gives the movie its strength. There's some fairly violent scenes. Well, two of them. And I already mentioned one of them, the other one will be fairly obvious. But the film is driven by Jose's motivations and the rage he feels, even though he doesn't actually show it. Antonio De La Torre gives an excellent performance here. He's a man who, obviously, was broken by this senseless act of violence and the story sees him at the point where he's just decided to say fuck it all, regardless of whether his actions lead to him getting caught or not. I honestly don't think Jose really cared much if his search for retribution led to him getting caught, he just wanted those responsible to pay for their crimes. While the movie certainly has its brutal scenes, I think it really shines in its quieter moments. The moments where you get to see the man that Jose used to be compared to the man that this botched jewelry store robbery made him into. I don't think it's a movie that a more conventional crowd, used to the Kill Bill type of vengeance flicks, will enjoy. It's definitely for the art house crowd. I definitely really enjoyed this movie. And it's even more impressive when you take into consideration that this is Raul Arevalo's first movie. There's a confidence and a patience to craft a well-rounded story with strong characters that take other filmmakers years to master. The sky is the limit for this guy. It's not gonna be for everybody, but I really liked this movie. Strong narrative coupled with excellent performances make this a movie that I would recommend. Just know that this is a more patient and methodical movie, it's not gonna rush into anything. Very good movie here.
Jesse Ortega
Super Reviewer
The Fury of a Patient Man (Tarde para la ira) Quotes
There are no approved quotes yet for this movie.