The Grump (Mielensäpahoittaja)
(2014)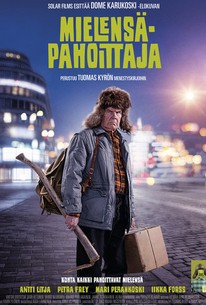 The Grump (Mielensäpahoittaja) Photos
Movie Info
Director Dome Karukowski takes the helm for this poignant and comical adaptation of Tuomas Kyro's popular novel about an 80-year-old Finnish farmer who reluctantly goes to live with his youngest son and his uptight, career-oriented wife following a debilitating domestic accident. A proud man who takes deep pride in his ability to remain self-sufficient, the aging farmer (Antti Litja) lives in the countryside alone after his wife is hospitalized. His days are spent tilling the fields until an accident leaves in need of medical assistance. As the son travels back to the farm to gather up some belongings, the old man arrives in Helsinki, where his Type-A daughter-in-law obviously resents his presence. And the feeling is mutual, too; both the farmer and his son's wife are completely set in their ways, and any deviation from their daily routine is unwelcomed at best. From the moment the aging curmudgeon arrives in the city, it's apparent he's out of his element. Meanwhile his constant meddling not only threatens to derail an important business deal being brokered by his daughter-in-law, but begins to put a serious strain on his son's marriage as well. Later, it becomes increasingly obvious that the ornery octogenarian harbors some painful secrets made all-the-more problematic by his stubborn refusal to address them.
Critic Reviews for The Grump (Mielensäpahoittaja)
Audience Reviews
There are no featured reviews for The Grump (Mielensäpahoittaja) at this time.
The Grump (Mielensäpahoittaja) Quotes
There are no approved quotes yet for this movie.