The Identical
(2014)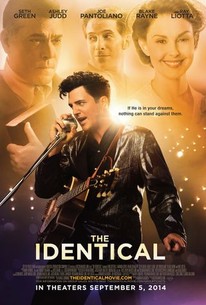 TOMATOMETER
AUDIENCE SCORE
Critic Consensus: With nearly every element ringing as hollow as the ersatz Elvis at the story's core, The Identical looks destined for a bright future on the ironic viewing circuit.
Movie Info
Identical twin brothers (both played by Blake Rayne) are separated at birth during the Great Depression. Their parents (Brian Geraghty, Amanda Crew) just cannot afford to give them both a life beyond poverty, so one is adopted by loving family. Despite their very different upbringings, the boys' shared passion for music causes their lives to unknowingly intersect as they experience a powerful and mysterious connection often felt by twins. (c) Official Site
News & Interviews for The Identical
Critic Reviews for The Identical
Audience Reviews for The Identical
½
This movie is a perfect example of how widely misguided critics are. The Identical is as heartwarming as it is enjoyable; delivering great performances, outstanding music, and pleasant vintage aesthetics. I found myself loving every minute of the separated twins story and looked forward to how it would all conclude into a satisfactory happy ending.
Farah Rizq
It took a little bit of will power just to make it through this travesty. It's like somebody wanted to do a movie based on Elvis Presley's life, but couldn't get the rights or the family's approval; so in order get around those pesky road blocks, they just changed a few details like the identical twin thing and of course the names and apparently the styles. What we ended up with was a generic Elvis impersonation that just got worse as the movie went on and his appearance became laughable and quite Halloween-y. A couple of questions came to mind during the movie. 1. When the birth parents were symbolically burying the baby they lost and told people he died, why did nobody wonder how they managed to fit a baby into the small box they were burying? I know a baby is small, but not THAT small. 2. If you one day heard YOUR voice on a record and saw YOUR face on the cover, how could you not freak out and have questions for the people who raised you? After having watched this, it made me want someone w/ talent to do a proper Elvis movie.
Andrew Curley
As I began watching, I thought it might be a gentler version of Footloose, then later perhaps The Lego Movie aimed more specifically at Christians (and I am one) but eventually I found out it was about fathers and sons, and I experienced... catharsis! It has been a long time since I have gone through that process watching a movie, so I cannot fault it too much, no matter how inane the plot (and it was, kind of). I hope Ray Liotta's performance is recognized... it was real to me. And as for the "follow your dream/gift because it is from God" message, I was a fan of "PK" Alice Cooper and know how he eventually used that as his rationale for continuing to present his sets (does he still sing "I Love the Dead?") and how Ludacris also claims it is a gift from God that he can rhyme about...well, you know. So that part I don't buy so much, logically. But CATHARSIS... that is a precious experience, something that IS, I believe, a gift from God. So, in the midst of the flies, ointment, and how often can that be said, even when there are no flies?
John Guilgood
The Identical Quotes
There are no approved quotes yet for this movie.
Discussion Forum
Discuss The Identical on our Movie forum!