The Invincible Iron Man
(2007)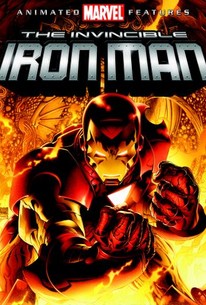 AUDIENCE SCORE
Critic Consensus: No consensus yet.
Movie Info
When an ancient prophecy threatens to wreck havoc on humanity, a billionaire inventor assumes the persona of the one being who may possess the power to save all of mankind in this animated adventure exploring the origins of popular Marvel Comics superhero Iron Man. Wealthy industrialist Tony Stark was raising the ruins of a buried Chinese empire when the emperor of the world's most brutal dynasty was unearthed and began to unleash his fury in the modern world. Now, in order to defeat the most powerful evil ever witnessed by man, Stark will use his unlimited wealth and fast-thinking innovation to craft a suit of impenetrable armor and assume the guise of the mighty Iron Man.
Critic Reviews for The Invincible Iron Man
Audience Reviews for The Invincible Iron Man
½
A Lone Warrior. A Suit of Armor. Our Only Hope. IRON MAN. Invincible Iron Man was a very refreshing new take on the origin of a well loved Marvel superhero. I enjoyed it to an extent, but I still don't consider the movie anything more than average. Billionaire inventor Tony Stark digs up far more than he bargained for. He unleashes an age-old prophecy that foretells the resurrection of the Mandarin, the emperor of China's darkest and most violent dynasty. When his best friend James "Rhodey" Rhodes has been kidnapped, Tony travels to China to investigate, he is captured and badly injured by the Jade Dragons, his life only saved thanks to a Chinese shaman and Rhodes' skills as an army medic after a piece of shrapnel damages his heart. In order to confront the destructive force in this ultimate battle, Tony creates an armored suit infused with high-tech weaponry. To stop the evil that he himself has raised form the earth, Tony must become his greatest invention ever which becomes known as "Iron Man"! The newly born champion must travel to the four corners of the earth to battle the Mandarin's henchmen, the Elementals four magical warriors who harness the power of the elements earth, water, wind, and fire with deadly chemistry.
Too awful to critique, really. Not only is the story a bastardization of his origin but the animation is absolutely awful. There's some unexpected attention to character complexities and relationships, but outside of that this film completely fails in every way possible. Why would Marvel put money on such crap?
Drake Tsui
Super Reviewer
½
Nothing all that bad, but nothing particularly great. The animation is not impressive at all, it seems as if there were budget issues because the movement looks unnatural. Where it really excels is in the storyline, which is a semi-origin story and Mandarin plot. I only wish there was more time spent with Iron Man in his suits instead of being just a plain, non-RDJ Tony.
Conner Rainwater
Super Reviewer
The Invincible Iron Man Quotes
There are no approved quotes yet for this movie.