The Match Factory Girl
(1990)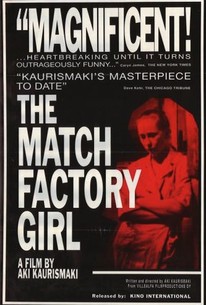 AUDIENCE SCORE
Critic Consensus: No consensus yet.
The Match Factory Girl Photos
Movie Info
A downtrodden young factory worker becomes pregnant after a one-night stand and, when rejected by the wealthy father, suddenly decides to exact a vicious revenge on him and her other tormentors.
Critic Reviews for The Match Factory Girl
All Critics (3) | Fresh (3) | Rotten (0)
Kati Outinen proves herself the divine muse of minimalism, conveying more emotion with her stony facial expressions than a whole marquee's worth of shrill starlets could manage.
Audience Reviews for The Match Factory Girl
In "The Match Factory Girl," Iris(Kari Outinen) works all day in a factory and comes home at night to tend to her parents(Elina Salo & Esko Nikkari) in a cramped apartment. So, she figures she deserves a little fun in return but nobody takes notice of her at a dance. Her parents react in shock when she has the nerve to buy a new dress with her own money and demand she return it. She does not. In fact, Iris wears it to a bar where she winds up meeting the wealthy Aarne(Vesa Vierikko) and they spend the night together. "The Match Factory Girl" is proof that Aki Kaurismaki does not make the same movie over and over again, as this is more dead serious than deadpan. There is very little humor and minimal dialogue which makes it perfect for watching on a bus. Even the television news is pessimistic, full of death and destruction(pretty much everything except for the Bay Area Earthquake) with a little resistance thrown in. Even Iris' job at a factory that makes matchsticks which are primarily used in smoking cigarettes has ominous overtones. Iris is too good of a person for such a cruel world, serving others and expecting the best from the world in return, and eventually suffers for it, before the movie takes a huge risk in removing any sympathy from her.
Kaurismaki's perfection of the 90's.Outinen is a goddess,convincing me that acting is silence,a soundproof collision merged into shattering pieces.Those pieces glued in the trembling-vengeful heart of Iris.Aye,and hard laboring.
Dimitris Springer
Super Reviewer
The Match Factory Girl Quotes
There are no approved quotes yet for this movie.