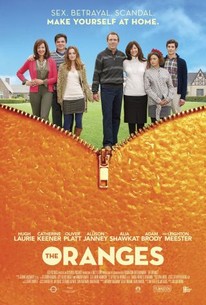 The Oranges
2011, Comedy/Drama, 1h 32m
78 Reviews
5,000+ Ratings
What to know
critics consensus
Despite the efforts of its accomplished cast, The Oranges suffers from a mediocre script that fails to deliver well-rounded characters, dramatic tension, or sufficient laughs. Read critic reviews
Where to watch
Free
Rent/buy
Rate And Review
Movie Info
A man's (Hugh Laurie) affair with his friend's much-younger daughter (Leighton Meester) throws two neighboring families into turmoil.
News & Interviews for The Oranges
Audience Reviews for The Oranges
Entertaining but ultimately somewhat flat comedy about a middle aged guy dating his best friend's daughter. There are some funny moments, especially when the film dares to be a little naughty, which isn't too often. It doesn't help that the ending has to follow the conventions of Hollywood comedies and that big age differences can never work out. A wasted opportunity to be somewhat different. The cast works, though.

In "The Oranges," David(Hugh Laurie) & Paige(Catherine Keener) and Terry(Oliver Platt) & Cathy(Allison Janney) are a pair of close knit middle aged couples living across the street from each other in suburban New Jersey. So much so, that David and Terry jog together every morning and they all celebrate the holidays together, even as Terry and Cathy's daughter Nina(Leighton Meester) cannot make it home in time. That holds true until her scumbag of a fiance, Ethan(Sam Rosen), cheats on her. And when she does come home, she warms up romantically to David while his daughter Vanessa(Alia Shawkat) seethes in her room and at work. While maybe not looking like much on the surface, "The Oranges" succeeds by a being a comically perceptive movie about suburbia that is aided by an excellent cast, especially Hugh Laurie who underplays magnificiently. The movie is kind towards its flawed characters and even handed in showing that suburbia can be a comfortable place to be while also a trap of sorts. For example, Tina who at least has a life of her own makes some huge mistakes in the movie but is at an age where she can recover and learn from them whereas Vanessa does nothing more than just complain in retail purgatory.

I'm surprised at the bad reviews. I enjoyed this. Storyline is a bit iffy with younger girl falling for her father's best friend, who also happens to be married, but it's really well done and the cast are excellent. It's a drama, but there is a kind of black humour to it, and it's kind of a Xmas movie too, which I didn't expect.

Sex. Betrayal. Scandal. Make yourself at home. Very good movie I liked it! Although this film does not have a complicated plot or much depth, I thought it was fun and found myself smiling all the way through. If you are looking for a simple and amusing film this is the one for you. The story observes many real life feelings and situations even if it does cross over into the surreal sometimes. It doesn't have the scripted feeling that so many comedies seem to fall into and keeps a jovial feeling without leaving you cringing. I thought Hugh Laurie was brilliant as House and I have wanted to see him in other things but was put off by the rating on this film. It is never going to be an epic but it is fantastic for what it is. A true feel good movie if you are in the mood for a dose of reality and can put aside some skepticism. The enduring friendship between the Walling and Ostroff families is tested when Nina, the prodigal Ostroff daughter, returns home for the holidays after a five-year absence and enters into an affair with David, head of the Walling family.
See Details