The Pill
(2011)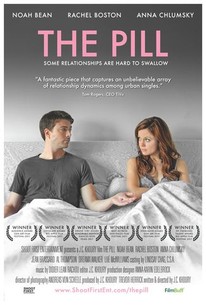 Movie Info
It happens. You meet someone at the bar, one thing leads to another, and the next thing you know you're waking up wondering (and potentially regretting) exactly what took place the night before. Such is the case for Fred, who starts to panic when his free-spirited one night stand, Mindy, informs him that she's not on birth control; but for some reason isn't too concerned. Determined not to become a father, Fred spends the day with Mindy under the guise of pursuing a serious relationship to make sure she takes both doses (taken 12 hours apart) of the morning-after pill. The result is an all-day adventure filled with socially awkward situations and untimely roadblocks as Fred struggles to preserve his New York City world. With a resolution finally in sight, the no-boundaries Mindy starts to grow on the overly anxious Fred, forcing him to make a decision that will change the rest of his life. -- (C) Official Site
Rating:
NR
Genre:
, ,
Directed By:
Written By:
In Theaters:
On DVD:
Runtime:
Studio:
News & Interviews for The Pill
Critic Reviews for The Pill
Audience Reviews for The Pill
The Pill(2011) Starring: Noah Bean, Rachel Boston, Anna Chlumsky, Jean Brassard, S. Lue McWilliams, Steve Routman, Julia Royter, Jack Tartaglia, Al Thompson, and Dreama Walker Directed By: J.C. Khoury Review Hello everyone your pal the cupid critic here to tell you about why you should use a condom, you won't make a shitty love story like this one. The film is about Fred being worried that he has gotten the free-spirited Mindy pregnant after an unprotected one-night stand, Fred feigns romantic interest and sticks by her side for twelve hours to make sure she takes both doses of the morning-after pill. If this film any intentional goals of being something good, it fails cause this is most uneventful and boring love story. It's not even that funny. Which makes it harder to sit through. The characters I don't remember and I just finished watching it this second. Only Fred the dumbass who is unsuccesful at putting on a condom and thus you have your very boring and uneventful love story. The story is not interesting if anything it feels forced upon. They do this for the sake of the plot, which contemplates to this and this. The movie convenience and plot device after another, this movie didn't need to happen, I mean it was so dang boring I need to listen to my love songs to stay awake. The direction is pretty okay, J.C Khoury does a fine job with shot but fails in getting good performances out of his actors. They all look like rejects for a soap opera. None of the elements in a good film are present, is J.C Khpoury's shots good? yes, but that doesn't make the film any less boring, tedious, stupid and uneventful. I'm giving THE PILL a half out of five.
Edward Cantillo
½
The characters were either deplorable or annoying to the point of excess. The central premise could have led to some really cute comedy, or at least something funny. This was dry, disgusting, and lame.
Spencer S.
Super Reviewer
½
What could have been a hidden gem on Netflix turned irritating quick when I realized how unlikeable the central characters were and really didn't give a damn about their plight. The plot synopsis is funny on its own, but it's not very truthful as it leads you to believe the guy gets up to a million hijinks trying to trick the girl into taking the other half of her pill, but it's more about the adventure he goes on trying to win her over and it wasn't nearly as engaging. The two actors are okay, and a surprise appearance from Anna Chlumsky (most famous from My Girl) was well-warranted, but none of these characters felt like human beings and the whole film felt forced to me. The ambiguous ending is a plus and there were sporadic chuckles throughout, but I'll honestly never remember this film past a few days, and I don't think the filmmakers were setting their sights all that high.
Brett Horton
Discussion Forum
Discuss The Pill on our Movie forum!