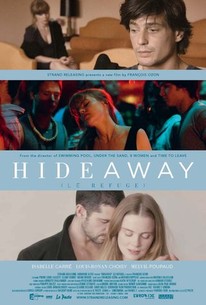 The Refuge
2009, Drama/Lgbtq+, 1h 28m
38 Reviews
10,000+ Ratings
Rate And Review
Movie Info
At an oceanside chateau, a bond slowly forms between a pregnant drug addict (Isabelle Carré) and the brother (Louis-Ronan Choisy) of her late lover.
News & Interviews for The Refuge
Audience Reviews for The Refuge
Contrived drama about a pregnant woman who forges an unusual relationship with the gay brother of her dead boyfriend, who died of a sudden drug overdose. The characters are mostly inconsistent patchwork quilts meant more to further plot points than be fully fleshed out personalities.

Death, relationships, life, homosexualism, family, being a mother, a country house near the beach. All the recurring themes in François Ozon's films are seen in Le Refuge, where he works again with Melvil Poupad and Mari Rivière in small roles. Rivière's character and scene made me believe for those brief minutes that I was, actually, seeing a Rohmer's movie. I haven't noticed it before, but there's a lot of Rohmer in Ozon's films, though Ozon can be very melodramatic sometimes while Rohmer was a genius in his vision of the ordinary. Isabelle Carré, who was really pregnant during the shoot, gave to the film more realism and some very beautiful scenes. </br> </br>

I adore these kinds of films; character driven, well acted, uncomplicated in terms of plot, emotive and perceptive. The French seem to do them especially well. Isabelle Carré, who really was pregnant during filming, is a revelation in understatement - if that isn't a contradiction in terms. She is wary but not shy, delicate but inquisitive, and her reactions are incredibly natural and real. Louis-Ronan Choisy complements her very well as the gay brother of her dead lover - he has a haunted quality in some of his scenes but radiates warmth. Mathieu Hippeau and François Ozon's screenplay is excellent and Mousse's "self-rehab" from drug addiction is handled sensitively and non-sensationally (very different from the melodramatic methods used in most Hollywood films) - she simply gets on with it and tries to make the best she can of an awful situation. I was also very impressed with the ambiguous & open ending that successfully gives closure whilst making no promises of happiness, just hope. François Ozon, a director of immense skill and versatility, has made an unshowy, unforced film on addiction, birth and rebirth, no mean feat. <i>Le Refuge</I> is excellent stuff.

Sensitive, beguiling tale of a women's struggle with a solitary pregnancy and drug rehab which perhaps underplays the horrors of withdrawal but scores for tackling the female experience of pregnancy. This works thanks to a multilayered performance from Carre and hauntingly fragile silent stares which speak volumes.
See Details