The Return of Dracula
(1958)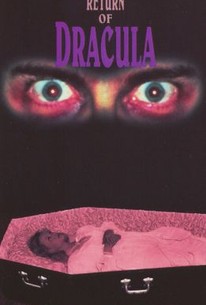 AUDIENCE SCORE
Critic Consensus: No consensus yet.
The Return of Dracula Photos
Movie Info
Originally released as The Return of Dracula (and also known by the irrelevant title The Fantastic Disappearing Man), this interesting vampire variant on Shadow of a Doubt finds the infamous Count (Francis Lederer) leaving his castle digs in Transylvania and departing for the United States after killing an artist and assuming his identity. Passing himself off as a distant relative, he settles in with the Mayberry family in California, where he begins seeking fresh victims. The suspicions of young Rachel Mayberry (Norma Eberhardt) regarding her pale visitor's eerie nocturnal habits prove well-founded after the mysterious death of her best friend, and she soon discovers her own ghastly role in the Count's master plan; her only hope lies with an expatriate police inspector, who may be familiar with the ways of the undead. Played refreshingly straight, this modest Universal production benefits from Lederer's compelling performance as the seductive Count and several unique plot twists (including a blind girl who becomes sighted on turning into a vampire).
Critic Reviews for The Return of Dracula
All Critics (2) | Fresh (2) | Rotten (0)
A Cold War horror movie in which vampirism functions as a metaphor for Communism and the forces of anti-Christianity, with Dracula a shadow version of Jesus who performs miracles (he restores a blind girl's sight) and promises immortality...
A satisfying low-budget schlock horror flick that has Dracula searching to rebuild his army of the undead in the New World.
Audience Reviews for The Return of Dracula
The synopsis on here doesn't remind me of the movie at all, I think it just isn't worded well, the movie is about Dracula taking the place of this distant uncle who's supposed to be visiting his family in America, and the daughter starts to fall in love with him, not realizing it's just his vampire powers, or that he is a vampire. It's a cool movie, I'd love to see it again, I saw it on TV.
Francis Lederer, Played Count Dracula, posing as Bellac Gordal, Though the Name Dracula was never mentioned in the movie. But its an outstanding Black & White movie, and I am sure back in the day it frighten a few people. If you enjoy Black & White Films I would add this one to the collection.
Bruce Bruce
Super Reviewer
The Return of Dracula Quotes
There are no approved quotes yet for this movie.