The Sasquatch Gang
(2007)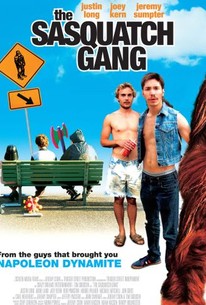 The Sasquatch Gang Photos
Movie Info
As a trio of fantasy-obsessed, sword-fighting geeks attempt to prove that the giant tracks discovered deep in the forest offer undisputed proof that Bigfoot truly exists, a stoned-out bully and his best friend scheme to profit from their elaborate prank before an overzealous Sasquatch hunter arrives to blow the whole scam sky-high. His beloved Pontiac Firebird threatened with repossession by the bank, mullet-haired menace Zerk (Justin Long) convinces his best friend, Shirts (Joey Kern), to help raise money to save the car by selling plaster casts of fake Bigfoot tracks on the Internet. When role-playing dweebs Gavin (Jeremy Sumpter), Hobie (Hubbel Palmer), and Maynard (Rob Pinkston) stumble upon the falsified "evidence," they naïvely assume it to be the genuine article. Now, self-proclaimed Sasquatch expert Dr. Artemis Snodgrass (Carl Weathers) is on his way to town to verify the widely reported discovery. With little time to loose before their ruse is revealed, the lame-brained Internet scammer and his pal rush to cash in as quickly as possible in order to save Zerk's sweet ride from the dreaded repo man.
Critic Reviews for The Sasquatch Gang
Audience Reviews for The Sasquatch Gang
½
This film's classic storyline of teenage fantasy role-players versus the redneck neighbors plays out like Napoleon Dynamite clashing with Joe Dirt's bucolic enemies. Throw in a group of younger bullies, a plot that revolves around a possible Sasquatch in the area, profits to be made over the validity of the Bigfoot "evidence,"?Carl Weathers steps in as Sasquatch expert, Dr. Snodgrass, to help resolve this matter?and you have all the ingredients for one hilarious movie. I viewed this seemingly teen-targeted movie on DVD. The excellent writing, acting, and composition of this film gels into a wonderful creation that had the entire theatre rolling in the aisles. If you can say "Sasquatch" without smiling, then you haven't seen this movie.
MisterYoda ?
Super Reviewer
One of the stupidest comedies I have ever seen! But I love it for what it is!
½
The Sasquatch Dumpling Gang (2006): Starring Jeremy Sumpter, Justin Long, Joey Kern, Michael Mitchell, Addie Land, Jon Gries An indie movie that could almost be a sequel to "Napoleon Dynamite" (it even features Jon "Napoleon" Heder and Jon "Uncle Rico" Gries in it) only these nerds make Napoleon look like Billy Dee Williams. These are uber-nerds. NERDS in ALLCAPS because that's just how incredibly nerdy they are. These are nerds who have sword fights on their front lawn with giant foam rubber swords they made (whilst playing "Lord of the Rings"-type fairy music on a boombox in the background). Head nerd Gavin runs a bootleg video rental service out of his bedroom. Hobie is the big fat nerd (you always need at least one), and Maynard is the "small for his age" blonde kid that looks up to the bigger nerds. Their nerd world is populated by bullies. Bullies like "Zerk Wilde" (hilariously played by Justin Long), a mullet-headed whitetrash dumbbell and his friend, "Shirts" (who ironically, never wears a shirt). Another bully is Shane (Michael Mitchell). Shane is the prototypical bully who's never without his two stooge-like henchmen. One day, the NERDS find sasquatch tracks (and a giant sasquatch turd) while looking for arrow heads in the woods. Bully Shane tells Gavin he didn't find any Sasquatch tracks (or turd) and bets him his chinese throwing star for Gavin's video collection that he didn't. Meanwhile, Zerk owes $1400 to a credit card company ($5 of which came from a fastfood purchase he made in 1999, the other $1395 is in interest), so he tries to raise the money through several bone-headed schemes. All the characters interact in the final reel ("Pulp Fiction"-style, in fact, this movie is edited much like Pulp Fiction, all the scenes are out of order), and Carl Weathers even makes a special appearance as the Bigfoot expert, "Dr. Artimus Snodgrass". Besides the Carl Weathers cameo, this movie heavily features laser tag, dirt bikes and corndogs. This is quite an unusual, painfully funny movie (the pain coming from childhood memories of being an uber-nerd, i guess), and it might even go down as a cult classic one day. Just like Napoleon Dynamite.
Devon Bott
Super Reviewer
The Sasquatch Gang Quotes
There are no approved quotes yet for this movie.