The Stoneraft
(2003)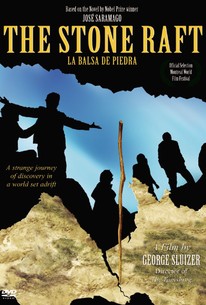 Movie Info
Five strangers from various parts of the Iberian Peninsula experience an outbreak of seemingly unrelated supernatural phenomena that only later take on greater significance in veteran director George Sluizer's 2002 seriocomic fantasy The Stoneraft. Joana (Ana Padrao), Jose (Gabino Diego), Maria (Iciar Bollain), and Joaquim (Diogo Infante) are all experiencing events they cannot logically explain: A flock of starlings follows Jose everywhere he goes, while Joana creates small fault lines with her walking stick; Joaquim not only raises an impossibly large stone with only his hands but also throws it out to sea; while unraveling one sock, Maria discovers the thread has no end. Pedro's (Federico Luppi) -- the fifth stranger -- experience is the most significant, as he alone feels a bizarre tremor that eventually leads to the entirety of Iberia dislodging itself from the rest of the European continent. As the new island begins to drift toward North America and a catastrophic collision appears imminent, the majority of the Spanish and Portuguese populations begin to abandon the renegade land mass. The five prophets, however, seek an answer to all of these puzzling events and are thus drawn together on their mutual quest for truth while preparing for what seems to be an approaching apocalypse.
Critic Reviews for The Stoneraft
Audience Reviews for The Stoneraft
There are no featured audience reviews yet. Click the link below to see what others say about The Stoneraft!
The Stoneraft Quotes
There are no approved quotes yet for this movie.