The Vault
(2017)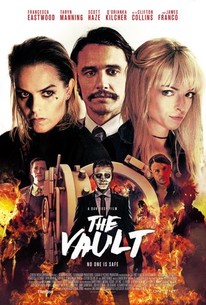 Movie Info
Two estranged sisters are forced to rob a bank in order to save their brother. The heist begins smoothly, but mayhem ensues when the defiant bank manager sends them to a basement-level vault--home to something truly evil.
Critic Reviews for The Vault
Audience Reviews for The Vault
I love the idea of these flip-the-script horrors, the kind that play on some variation of the "The Hunter Becomes The Hunted" trope. Unfortunately, The Vault is not a prime example of this concept when we're speaking in terms of quality. It's cheap, which is not inherently a problem, but it certainly doesn't help when you run into the real barriers like acting, visual effects, audio quality, costuming and set design. But it's still probably watchable enough that I'm going to chuck it onto my Payday playlist.
The Vault Quotes
There are no approved quotes yet for this movie.