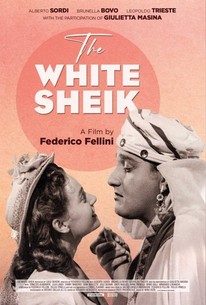 The White Sheik
1952, Comedy/Adventure, 1h 23m
15 Reviews
2,500+ Ratings
Rate And Review
Movie Info
In Italy, small-town newlyweds Wanda (Brunella Bovo) and Ivan Cavalli (Leopoldo Trieste) embark on their honeymoon in the big city of Rome. Ivan dutifully wants to keep appointments with family and church, but Wanda is only interested in meeting her favorite photo-strip star known as "The White Sheik" (Alberto Sordi). While Wanda impetuously sneaks away to locate the object of her affections, disconsolate Ivan tries his hardest to keep up appearances with the couple's relatives.
Audience Reviews for The White Sheik
A rather straightforward comedy by Fellini standards, but one bolstered by expressive performances and with no shortage of thematic depth.

Fellini's first solo effort is this lovely gem that already showcased his talent for combining a neorealist structure with delightful touches of farce and fantasy, especially in those hilarious moments when Leopoldo Trieste is desperate to find his missing wife.

From Th Criterion Collection, Spine Number 189. THE WHITE SHEIK is a low-budget film set in early 1950s Rome. It concerns a newly-wed couple Ivan (Leopoldo Trieste) and Wanda (Brunella Bovo) who arrive in the city for their honeymoon. Ivan has the arrangements all planned - they will meet his uncle and aunt, see the Pope, visit the sights and enjoy a quiet evening in. However things start to go off the rails when Wanda decides to look for her hero the White Sheik (Alberto Sordi), star of a series of comic-books and films. Her enthusiasm leads her astray from the hotel and into a series of adventures involving her being transported to the film-set, being taken on a boat with the Sheik, lost in the wilderness and taken back to Rome in a strongman's automobile. Ivan tries to look for her, but ends up in a series of adventures of his own as he desperately tries to convince his relatives that everything is perfectly serene in his marital life. Fellini's film rebounds from misadventure to misadventure; it is in fact extremely funny, with wonderful performances from the three leading actors, all of whom understand the importance of gesture and facial expression. Fellini spent his early years working with clowns; it's clear that this experience informs the film. THE WHITE SHEIK has a relatively short running-time - just over 80 minutes - but it is well worth watching. 3 3/4 Stars 9-12-13

Fellini has such a reputation that it might be difficult to even consider watching his work: "maybe I won't understand it ..." Well there's no reason to fear in this, his first, a light romantic comedy. A young couple's honeymoon is put on hold when the naive wife first stops to pay her respects to the Italian equivalent of a television soap opera star. Its fun, and Rome herself is the backdrop.
See Details