The Year of the Nail
(2007)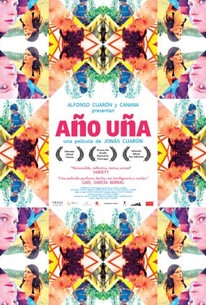 Movie Info
Noted director Alfonso Cuaron's son Jonas helmed this drama, which embodies one of the most unusual features to emerge on the international scene in quite some time. An experimental work overtly influenced by Chris Marker's La jet (C)e, it relies exclusively on a series of still photographs to establish its narrative trajectory, and thus avoids the moving image altogether. As the work opens, a title reads, "From 2004-5 I took photos of everything around me. At the end of that year, I ordered the images in such a way that they suggested the following narrative to me." Strategically building on this idea, the film then uses snapshots to weave the tale of an on-again, off-again cross-cultural romance between an American college student named Molly (Eireann Harper) and a 14-year-old Mexican boy called Diego (Diego Catao). As the tale opens, Molly is spending the summer in Mexico City and taking a class at a language school, while on the rebound from a recent relationship. When she goes sightseeing with her friend Katie (Katie Hegarty), her path soon intersects with that of Diego, a young man who harbors an obsessive interest in his female cousin. He's also extremely concerned about his terminally grandfather (Salvador Elizondo). The two adolescents sense an immediate connection, strong enough that when Molly returns home and lapses into an affair with a professor; she cannot quite forget Diego. Thousands of miles separate the couple, but two possibilities for a reunion linger - Molly's intention to return to Mexico City and Diego's plan to visit Molly in the Big Apple. Both experiences will provide unforgettable memories - but will the relationship survive the ravages of time and distance? ~ Nathan Southern, Rovi
Critic Reviews for The Year of the Nail
Audience Reviews for The Year of the Nail
½
A unique film, unlike any other this viewer has seen. The entire story is told with black and white still photographs and voice-over dialog. This was captivating as it told the story of a young, horny, fourteen year-old Mexican boy and the college-age Gringa that he becomes infatuated with over the course of a few months. The relationship that develops remains platonic, but only because neither truly knows what the other is thinking. At times it felt like a commentary on the cultural divide between two people from different backgrounds, and at other times it felt more like a straightforward coming of age tale. But it always kept the viewer's interest.
Mark Abell
Super Reviewer
The second the narration starts, you just completely forget you are watching still photographs for 70+ minutes. The story is so extremely simple, but executed with such lovely, funny, sweet and touching characters that you can't help but fall in love; it was a will-they-or-won't-they anxiety I was very happy to be going through. I can't describe the movie anything better than pure enjoyment all the way through.
Quinto Wallight
Super Reviewer
The Year of the Nail Quotes
There are no approved quotes yet for this movie.