Tibet in Song
(2010)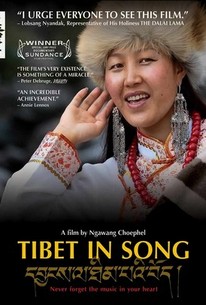 Movie Info
In the West, surrounded by iPods, instant downloads and an ever-changing onslaught of new music and performers, a simple song is something easily taken for granted. In the East, in Tibet, folk songs serve as the connective tissue between regions, passed down in the oral tradition through an increasingly fragmented country and region, much of which remains under harsh Communist Chinese rule after 50 years of occupation. Tibet was a sovereign nation for thousands of years, with its own music, heritage, laws and customs. Its folk songs convey and preserve ethnic, religious and philosophical customs that date to primeval times. But China's "patriotic reeducation" of Tibetan citizens through its dissemination of nationalistic pop songs is designed to wipe out Tibetan culture. TIBET IN SONG examines what happens when one man, Ngawang Choephel, a Tibetan native who fled his country of origin for India at the age of two, joining thousands (including the Dali Lama) seeking refuge from the Chinese occupation. In 1995, Choephel returned to Tibet to make a documentary film on Tibetan music rescuing his culture from extinction. It was then that TIBET IN SONG began. But soon after Choephel was arrested on charges of espionage by Chinese authorities. He was sentenced to 18 years in prison, serving nearly seven years before his highly publicized release in 2002 with the help of then- Vice President Al Gore, Paul McCartney, and Annie Lennox, among many others. Undeterred by his seven years of imprisonment, Choephel was ever determined to finish his film and production resumed immediately after his release. For the first time since his release from prison Ngawang Choephel can tell his story. With stunning cinematography of Tibet and rare access to voices of the region, TIBET IN SONG is the story of one man and one nation struggling to save the culture of their people. The film weaves a mesmerizing story of beauty, pain, brutality and resilience, introducing Tibet to the world in a way never before seen on film. -- (C) Guge
Rating:
NR
Genre:
, ,
Directed By:
Written By:
In Theaters:
On DVD:
Runtime:
Studio:
Critic Reviews for Tibet in Song
Audience Reviews for Tibet in Song
Ngawang Choephel was born in Tibet in 1966, about 16 years after China invaded Tibet. When he was two years old, his mother fled with him to a refugee camp in India to escape the oppressive Chinese regime. After growing up hearing her sing Tibetan folk songs and later studying ethnomusicology, Choephel returned to Tibet in 1995 to make a documentary about the traditional music of his homeland. He travelled through the countryside for a couple of months and shot quite a bit of film before being arrested, convicted of espionage charges, and sentenced to eighteen years in prison. He was released in 2002 with the help of some big name celebrities and immediately resumed work on his film - this film. "Tibet in Song" is as much about China's attempt to squelch all traces of Tibet's culture as it is about Tibetan folk music. It tells how China introduced nationalistic versions of Tibetan folk songs as part of its "patriotic education" campaign and banned the playing of the traditional versions. It features an interview with three female ex-prisoners were tortured for several years for their continued refusal to sing the Chinese national anthem. It also has interviews with young people who've grown up hearing almost nothing but Chinese music and who like it much better than their own music. I tend to agree with them. Tibetan music is - or I should say was - so embedded in their culture that they actually have a different song for each of their different daily chores. There's a song for milking the yaks, another for churning the butter, another for herding, and another for roofing. I suppose they're beautiful in a sense, but they're not catchy or danceable -- they're traditional - so it's not surprising that the kids gravitate more towards the high-energy Chinese pop tunes. I mean, we only trot out "Oh Little Town of Bethlehem" for a few weeks every year before switching right back to Radiohead or Rihanna. As sad as it is for Choephel to discover that the traditional Tibetan songs and dances have all but disappeared, this is really just a tangible manifestation of the bigger issue - the oppression of the Tibetan people by the Chinese government. Though purportedly this film is about music, hearing about riots and protests and tales of resistance interests me far more than Tibetan throat singing. As documentaries go, "Tibet in Song" is a bit uneven, but it's about such a sympathetic subject and Choephel went through so much to make it that it's hard to resist grading it on a curve. I think serving 6 1/2 years in a Chinese prison deserves an extra tomato.
v h
Wow. Along with Tuvan throat singing this has got to be the one of the purest evocations of humanity--singing that has no origin, but goes back into the mists of time. And of course, was 'born of Mother China'...NOT. Get out your hankies, folks. Then put them away, 'cause the Tibetans ain't taken this lying down. There's an old saying:"Don't get mad, get even." Keep on keepin' on. Next time you see those protesters with their flags & microphones, join 'em.
Claudine Jones
Tibet in Song Quotes
There are no approved quotes yet for this movie.
Discussion Forum
Discuss Tibet in Song on our Movie forum!