Tombs Of The Blind Dead (Noche del terror ciego)
(1972)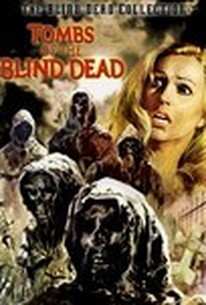 Movie Info
In 1971, director Amando de Ossorio created what horror fans worldwide consider to be Spain's NIGHT OF THE LIVING DEAD. In Ossorio's nightmare vision, a legion of Knights Templar - executed horsemen whose eyes had been pecked out by crows - rise rotting from their graves, hunting only by sound in a quest for human flesh. The BLIND DEAD saga begins here, as a modern-day tourist trip to the ruins of the Templar monastery unleashes a frenzy of lesbian desire, sexual violence and the unholy onslaught of the eyeless undead!
Critic Reviews for Tombs Of The Blind Dead (Noche del terror ciego)
All Critics (7) | Fresh (4) | Rotten (3)
While nearly all of the Italian zombie films were one shade of awful or another, Tombs is a good film, even a great one: one of the highlights of 1970s Spanish cinema and among the very best examples of its oft-indefensible genre.
Paces along with a sense of business-as-usual obligation when it would benefit most from turning the trash meter up to eleven.
an elegiac counter-vision that is much more fanciful than Night of the Living Dead dand wholly continental.
Audience Reviews for Tombs Of The Blind Dead (Noche del terror ciego)
A film directed by Amando de Ossorio one of the many he followed up with. The tomb raiders costumes are old school, but in 1970 they must have been top of the line. Not a real scary horror by today standards. A cult who rises from the dead and worships the devil reins terror on a couple and kills there friend. 3 stars
Bruce Bruce
Super Reviewer
A drive-in classic. At least three different edits are circulating; the original director's cut, an "American Version" (less skin, no lesbians), and "Planet Ape" version designed to capitalize on the Planet of the Apes craze.
Randy Tippy
Super Reviewer
½
There are aactually several different "Blind Dead" films to enjoy, this is the first one that I saw. The actual "blind dead" creatures are kinda cool and very creepy (in an old school sort of way) the other eliments of these films are just HORRIBLE. Several minutes of woman screaming as the creature slowly approach...bad dubbing...I could go on. But a fun late night film none the less.
Tombs Of The Blind Dead (Noche del terror ciego) Quotes
There are no approved quotes yet for this movie.