Totally
(1993)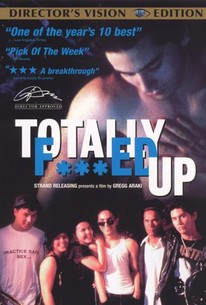 Movie Info
They're young, they're gay, they live in El Lay and everything is a terrible bore except the angst and hormones that fuel their endless conversations. Topics include homosexuality and stereotypes, sex, relationships, and the future. Whether or not the characters are truly insightful or just whiny and bitchy depends on whether they can inspire any audience feelings. Filmmaker Greg Araki doesn't seem to care either way. Between their conversations, Araki intercuts a variety of hip and often graphically sexual images.
Critic Reviews for Totally
Audience Reviews for Totally
Gregg Araki's low budget, independent, vignette style experimental film has a palpable sense of anarchy. The film follows a group of gay and lesbian teenagers throughout Los Angeles. We get to know them and their experiences through a video camera.. The film is structured in about 14 chaotic segments featuring text, video clips, (fake) interviews and narrative film. The film may dip into schmaltz here and there due to the low craftsmanship and (non)actors, but it's fun, real and when it needs to be very heartfelt. The emotions and situations may be over stylized by Araki but they are at least variations on real life trials and tribulations. This is an intriguing little movie. Side note: while the DVD lists the title as "Totally Fucked Up" nowhere in the film does a title card show up, so essentially it's untitled.
Steven Carrier
Super Reviewer
Araki breaks formal narrative rules for the sake of expressing his story the way he wants to. His approach to storytelling is fascinating; aligning cohesive images and scenes without tracing a deliberate story arc. A moody, affecting, heartfelt portrayal of teenage angst.
This film had all the ingredients and potential to be a big impressive film, but something just didn't work for me. Although it covered all relevant areas, for me the issues covered were not quite shocking enough, we never really got into the minds of the characters, meaning that whilst you could be empathetic or sympathetic to the situations, it never raised any particular emotions, other than confirmation that this kind of thing happens all the time.
Lady D'arbanville
Super Reviewer
Totally Quotes
There are no approved quotes yet for this movie.