Train to Busan (Busanhaeng)
(2016)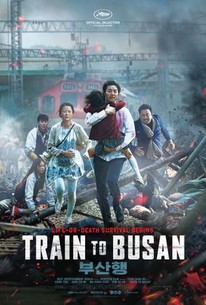 TOMATOMETER
AUDIENCE SCORE
Critic Consensus: Train to Busan delivers a thrillingly unique -- and purely entertaining -- take on the zombie genre, with fully realized characters and plenty of social commentary to underscore the bursts of skillfully staged action.
Train to Busan (Busanhaeng) Videos
Train to Busan (Busanhaeng) Photos
Movie Info
TRAIN TO BUSAN is a harrowing zombie horror-thriller that follows a group of terrified passengers fighting their way through a countrywide viral outbreak while trapped on a suspicion-filled, blood-drenched bullet train ride to Busan, a southern resort city that has managed to hold off the zombie hordes... or so everyone hopes.
News & Interviews for Train to Busan (Busanhaeng)
Critic Reviews for Train to Busan (Busanhaeng)
Audience Reviews for Train to Busan (Busanhaeng)
½
Take The Poseidon Adventure. Put it on a train. Add yer zombie apocalypse. Stir. Alright.
Kevin M. Williams
Super Reviewer
Much as I'm not a fan of zombie movies, this was freaking excellent and kept me glued to the screen. Suspense, drama, and characters with actual personalities. I have to say, I couldn't wait for that horrible business man to cop it!
Nicki Marie
Super Reviewer
I don't know how many zombie movies have actually been released in the history of film. I think the amount of zombie films, or other related media, is enough to account for every human who has lived and will ever live, that's how many of them there have to be. Of course, I've never been one to exaggerate or inflate facts to make myself look good. Seriously, though. The popularity of zombies is pretty impressive to say the least, particularly since The Walking Dead has been a television series. I've never been the biggest fan of The Walking Dead, I just think it lacks depth or truly interesting characters to keep me intrigued for any real length of time. I know that some fans will disagree with that, but that's just how I feel about it. Anyway, with the number of zombie films (and books, series, comic books, games, etc) it's really difficult for any of them to truly stand out above the pack as doing something unique or using old elements to tell a fresh story. Which is why I'm happy to say that, for my money, this might be the best zombie movie I've seen in years. Seriously, I can't remember the last time I saw a zombie movie that was this good that, also, actually, had some really strong character development featuring people that you legit cared about. When I think about this movie, and this is a comparison that's gonna be blasphemous to some people, but this reminds me of a zombie version of Mad Max: Fury Road. This movie obviously falls short of that, since Fury Road is a goddamn masterpiece, but what I mean by that is the fact that Fury Road is a two-hour chase sequence. There were definitely some moments of respite in Fury Road, but it, more often than not, was a relentless and kinetic action film. And this movie very much reminds me of that, structurally peaking. There's no real chase sequence, though you could say that the characters trying to avoid the zombies, while all are stuck on the same train, could classify it as a giant chase sequence. But what I like about it is that, much like Fury Road, this film is absolutely relentless when the shit does hit the fan. You are offered very few moments of respite before it's back to fighting off the zombies or moving to another car of the train or even fighting off your fellow humans, who have given in to their worst paranoid tendencies. Obviously, since the film takes place 75-80% on a train, there's a feeling of constant motion. The characters fight to stay just, barely, one step ahead of the undead and, honestly, it's really quite fucking thrilling and massively entertaining. Seeing waves, in some scenes even literally as the zombies pile up on top of each other, of the undead going after our heroes lead to some incredibly tense moments. And, once again, what makes this different, and better, than other films of its type is how strong the characters truly are. They're well-written, real people. Well, really, about as real as you can get in this type of film. That's not to say that they don't give in to some of the tropes usually associated with South Korean films, but, at the very least, in this film, they're earned. Because, again, you care for the characters and you feel the pain or the stress they're going through. There's literally so much stuff going on here that I can't even begin to go over it without missing out on something. Just know that if you're looking for a straightforward zombie film, that you can watch without using too much of your brainpower, then this succeeds at that. But it also succeeds at creating a movie that's rife with political subtext and social commentary. So it succeeds at both entertainment and actually putting some thought-provoking ideas in your head. Like I said, the movie does give in to some of the more melodramatic elements, particularly in the last 10 or so minutes of the movie, but I don't feel that it detracts too much from the overall experience. The film, much like Rec before it, benefits from the fact that it takes place in such a claustrophobic setting. The few scenes that take places out of the train are even worse, in that you get to see just how widespread the virus really is and how Busan really is the last hope for these people. So, the idea of setting the entire film on a train, really, was kind of a genius touch. I don't think the few complaints of some melodrama in the third act are enough to keep this from being one of the most refreshing and smart zombie movies I have seen in recent memory. I would highly recommend it, you're not likely to be disappointed.
Jesse Ortega
Super Reviewer
Train to Busan (Busanhaeng) Quotes
There are no approved quotes yet for this movie.
Discussion Forum
Discuss Train to Busan (Busanhaeng) on our Movie forum!