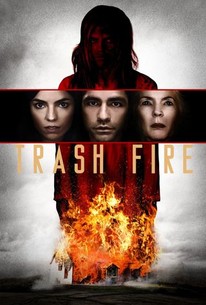 Trash Fire
2016, Comedy/Horror, 1h 33m
26 Reviews
250+ Ratings
What to know
critics consensus
Trash Fire has a confidently scabrous appeal, although its unsympathetic characters and nihilistic black comedy may leave a sour taste with some viewers. Read critic reviews
Where to watch
Rent/buy
Free
Rent/buy
Rent/buy
Rate And Review
Movie Info
Owen and Isabel's love story simmers with spiteful rage and unfortunately for everyone, Isabel is pregnant with Owen's child. To prove to her that he can become a stable father, Owen agrees to reconnect with his only living relatives at Isabel's request. The couple take a trip to visit his perversely devoted grandmother and his sister Pearl, who was severely burned in a fire, to finally bury the hatchet. But sometimes the ties that bind can cut off all circulation.
News & Interviews for Trash Fire
Audience Reviews for Trash Fire
You know, I've been watching a lot of Hallmark Channel lately. Reruns of The Golden Girls, one of my favorite sitcoms of all time, airs on there. I usually watch them after I finish a movie. They air a two-hour block and I usually always catch the last hour. I bring this up because the Hallmark Channel has been advertising some original movies for the month of February. They all look like awful and sappy rom-coms. The type of rom-coms that nauseate you and make you wanna vomit. One of these rom-coms that they're promoting stars Adrian Grenier. If you didn't know, Adrian Grenier is also the star of this movie. He does an brief interview in this ad for the rom-com. And he gives the most generic, pandering answer about how this movie is a unique story (it's really not). He might not say it, but you can sense it in his soul that he absolutely despises himself for doing this interview. But that's what the traditional Hallmark Channel demographic wants to hear. That type of sappy bullshit. I bring this up, about Adrian hating himself for doing this interview for this terrible rom-com that'll air on a channel most people don't get, because he also brings the hate to this movie. I mean that in the most complimentary manner possible because, for about the first 30 minutes of the movie, Grenier plays the biggest asshole. I suppose his years in Entourage did not go to waste. He plays Owen, this clinically depressed bulimic, who's in a contentious relationship, to say the least, with Isabel. They've been together for three years and in those three years, Owen's behavior has alienated Isabel from her family and her friends. Things get even more complicated once it's found out that Isabel is pregnant. Owen starts to take things more seriously as he wants to raise the child with Isabel. One of Isabel's conditions, however, is that they go visit Owen's grandmother and sister, whom he hasn't seen for years, after a fire killed Owen's parents and left his sister with third-degree burns in over 80% of her body. Owen does not want to go and warns Isabel that his grandmother isn't what one would call a great human being. But he agrees because he wants to reconnect with his sister, whom he abandoned when he ran way from home after the fire. The movie's concept, really, is to make Owen's grandmother as antagonistic toward Isabel and Owen. Isabel takes the brunt of this as Violet, the grandmother, a deeply religious woman, finds the fact that they're having a child out of wedlock a sin. So she lets Isabel know exactly what she thinks of her. It's worth mentioning that Violet is played by Fionnula Flanagan in an excellent performance. She's pretty much perfect in the role. Because when you imagine someone who's a domineering and castrating religious fanatic, Fionnula's performance in this movie is what should come to mind. It's not just Fionnula's performance, I found the writing to be really quite good. It does a great job at developing the family dynamics around these three characters and how they interact with each other. This is a family with a very dark past, that the movie slowly peels away to reveal the truth of the fire that killed Owen and Pearl's parents and what Violet's plans are for her grandson and his girlfriend. It's a movie that's not afraid to go to some dark places, at least during its climax, since a lot of the film prior to that point is Violet being as antagonizing as humanly possible. But, thankfully, the movie is also not afraid to find comedy. Yes, the comedy is dark as well. Like, for example, the best sex that Isabel and Owen had, at least for Isabel, comes when Owen has a seizure. It's that type of humor, but it works in this context. As mentioned, the writing is really strong and the film moves along at a nice pace. Not giving you too much, but not holding back too much either. The movie ends pretty much as one would expect, but how it choose to get there is part of the enjoyment one gets out of the film. That's all I can say without really spoiling everything, but you're gonna get it. I believe in you, you're smart people. Yea, I guess I really liked this movie, all in all. It's not perfect and it's not gonna be everybody's cup of tea, but I'd give this a shot if you have Netflix and you want something that's a little out there. Stick to these movies Mr. Grenier, they will make you happier than silly rom-coms or dudebro movies.
See Details