Troll 2
(1990)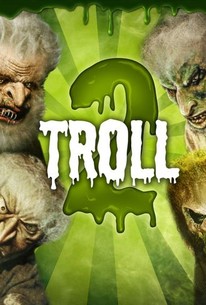 Movie Info
In this ultra-cheapo Italian knock-off a little boy tries to warn his family and friends that the evil trolls his late grandfather used to tell him about are real. Unfortunately, no one believes him and he and his sister are sent to the enigmatic town of Nilbog where nightmarish things begin to happen.
People Who Like this movie also like
News & Interviews for Troll 2
Critic Reviews for Troll 2
Audience Reviews for Troll 2
A hugely entertaining trash gem that earned its reputation as the best worst movie ever made, so appallingly bad it's hilariously great, with an awful script full of plot holes the size of a goblin, ridiculous over-the-top performances and shocking continuity errors that will make you choke with laughter.
Carlos Magalhães
Super Reviewer
So many unforgetable lines and scenes. Awful acting, poor screenplay, amateur directing, cheep production, a perfectly bad / weird movie and it's because of this Troll 2 is one of the best movies I ever saw.
Lucas Martins
Super Reviewer
One of the worst films ever made yet still very entertaining. It's so bad that it's funny; many scenes will make you laugh out loud at just how terrible it is. The costumes look like they were bought out of a cheap Halloween store. The editing is sloppy and the story is full of absurdities. Don't even get me started on the acting.
Eric Shankle
Super Reviewer
Troll 2 Quotes
| | |
| --- | --- |
| Creedence: | This is my house! |
| | |
| --- | --- |
| Joshua: | Nilbog! It's Goblin spelled backwards! |
| | |
| --- | --- |
| Joshua: | A double decker bologna sandwich! |
| | |
| --- | --- |
| Arnold: | They're eating her! .....Then they're going to eat me! [a fly lands on Arnold's forehead, but it's okay, no need to reshoot] Oh my gaaaaaaaawwwd! |
| Arnold: | They're eating her! Then they're going to eat me! [a fly lands on Arnold's forehead, but it's okay, no need to reshoot] Oh my gaaaaaaaawwwd! |