True Grit
(2010)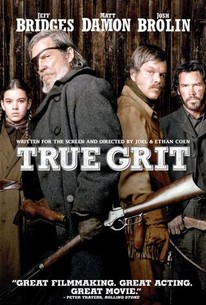 TOMATOMETER
AUDIENCE SCORE
Critic Consensus: Girded by strong performances from Jeff Bridges, Matt Damon, and newcomer Hailee Steinfeld, and lifted by some of the Coens' most finely tuned, unaffected work, True Grit is a worthy companion to the Charles Portis book.
Movie Info
Fourteen-year-old Mattie Ross (Hailee Steinfeld) joins an aging U.S. marshal (Jeff Bridges) and another lawman (Matt Damon) in tracking her father's killer into hostile Indian territory in Joel and Ethan Coen's adaptation of Charles Portis' original novel. Sticking more closely to the source material than the 1969 feature adaptation starring Western icon John Wayne, the Coens' True Grit tells the story from the young girl's perspective, and re-teams the celebrated filmmaking duo with their No Country for Old Men producing partner Scott Rudin. Josh Brolin and Barry Pepper co-star. ~ Jason Buchanan, Rovi
People Who Like this movie also like
News & Interviews for True Grit
Critic Reviews for True Grit
Audience Reviews for True Grit
Wonderful direction, strong performances from all, and beautiful cinematography add up to a great modern Western from the Coen brothers.
Spencer Macklin
Super Reviewer
½
A mesmerizing epopee that evokes the true grandeur of classic Westerns, with a beautiful melancholy score, well-developed characters, a magnificent cinematography, endless memorable lines and top-notch performances, especially from Bridges and Steinfeld.
Carlos Magalhães
Super Reviewer
A fourteen year old girl employs the talents of a grizzled old US Marshall to track her father's killer. The Coen brother's re-imagining of John Wayne's western classic is actually not as different from the original as you'd expect. The biggest difference is in its lack of bravado; Bridges' Rooster Cogburn is more of a crotchety old has-been than The Duke's larger-than-life portrayal and the spectre of Death permeates the film in a similar way to Jarmusch's Dead Man. Even the teenage Maddy (impressively played by newcomer Hailee Steinfield) is not immune to its touch, as we see when she beds down for the night in an empty coffin nearly as soon as she appears. The melancholy epilogue is another nice touch and the ending in general I felt worked much better then the first film. I would have to say that I found Matt Damon an odd casting choice (I suspect the studio insisted on a "big name") but he acquits himself adequately and although it is amongst the most mainstream of the Coens' films, it still has enough of their hallmarks to make it appeal to their die-hard fans. A quality western in the classic style which I personally prefer to the original version.
True Grit Quotes
| | |
| --- | --- |
| Rooster Cogburn: | I don't need to buy that, I confiscate it. I'm an officer of the court! |
| | |
| --- | --- |
| Mattie Ross: | They tell me you're a man with true grit. |
| | |
| --- | --- |
| 40-Year-Old Mattie: | (first lines) People do not give it credence that a young girl could leave home and go off in the wintertime to average to her father's blood. But it did happen. I was just fourteen years of age when a coward by the name of Tom Chaney shot my father down and robbed him of his life and his horse and two California gold pieces that he carried in his trouser band. Chaney was a hired man and Papa had taken him up to Fort Smith to help lead back a string of Mustang ponies he'd bought. In town, Chaney had fallen to drink and cards and lost all his money. He got it into his head he was bein' cheated and went back to the boardin' house for his Henry rifle. When Papa tried intervene, Chaney shot him. Chaney fled. He could have walked his horse, for not a soul in that city could not be bothered to give chase. No doubt Chaney fancied himself scot-free. But he was wrong. You must pay for everything in this world, one way and another. There is nothin' free, except the grace of God. |
| | |
| --- | --- |
| Colonel Stonehill: | I do not entertain hypotheticals. The world itself is vexin' enough. |