Tuya's Marriage
(2006)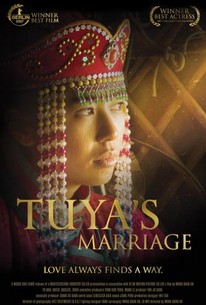 Movie Info
A reserved Mongolian bride diagnosed with a debilitating back injury enters into an unusual agreement with her disabled husband in Lunar Eclipse director Wang Quan'an's Golden Berlin Bear-winning entry into the 2006 Berlin International Film Festival. Peasant Tuya (Yu Nan) is a happily married mother of two whose husband Bater is permanently disabled. One day, after hard-working Tuya collapses in the fields while straining to perform her rigorous duties, the local doctor diagnoses her with a lumbar dislocation. Subsequently unable to care for her invalid husband, Tuya and Bater agree to divorce so that the ailing woman can wed a husband capable of caring for both of them. Though several suitors throw their hat into the ring upon hearing that Tuya is available, each is immediately put off upon learning that Bater is part of the deal as well. The only man who seems willing to consider caring for both is divorced oil tycoon Baolier, who, as a smitten young schoolboy, was once good friends with the kindly Tuya. When a sudden tragedy strikes, threatening Bater's life, however, Baolier's true intentions open the door for Tuya's cuckolded neighbor Sen'ge to step in and save the day. At first simply thankful for the benevolent intervention of the shy but likable Sen'ge, Tuya slowly begins to realize just how deep the lovelorn Sen'ge's feelings for her truly run.
People Who Like this movie also like
Critic Reviews for Tuya's Marriage
Audience Reviews for Tuya's Marriage
½
An interesting movie that centralizes around the life of a hard-working woman who struggles to uphold her home as well as her family.
[font=Century Gothic]In "Tuya's Marriage," Tuya(Yu Nan) not only has to take care of her crippled husband, Bater(Bater), and their two children, but also their flock of sheep. Things only get worse when helping a neighbor, Shenge(Shenge), who is trapped beneath his truck, she throws out her back, risking paralysis if she continues with her arduous tasks. So, the only thing to do is to divorce her husband and get married again. But instead of letting her sister-in-law take care of him, she has a sole condition for her potential new husband that he also has to take care of the old husband.[/font] [font=Century Gothic][/font] [font=Century Gothic]It is not that life is tough in Inner Mongolia where "Tuya's Marriage" is filmed.(But the consumption of alcohol is much higher than normal...) It is just that there is so very little room for error, due to a hard landscape and a natural isolation that might mean a long wait if something calamitous did happen.(A series of chance meetings evens the odds somewhat but clashes with the movie's naturalism.) This setting leads to some tough choices where sentiment might not otherwise come into it but it does for Tuya. The audience is left wondering if Tuya did make the right decision. That sort of ambiguity is definitely the right choice for any filmmaker.[/font]
Tuya's Marriage Quotes
There are no approved quotes yet for this movie.