Twentynine Palms
(2004)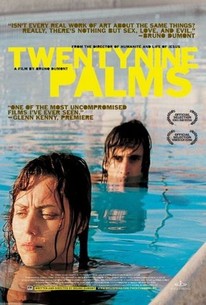 Movie Info
David, an independent photographer, and Katia, an unemployed woman, leave L.A. to explore the desert terrain in search of a natural set for a magazine photo-shoot. The attractive couple finds a motel at 29 Palms, and subsequently spends their days on their four-wheelers, discovering the Joshua Tree Desert. Driving around with utter freedom, they lose themselves on nameless roads and trails. Frantically making love all the time and most everywhere, they regularly fight. Inevitably, David and Katia kiss and make up though, understanding the eruption petty fights that can occur within ordinary daily life. However, soon their relationship begins to collapse, and elements of menace and fear begin to plague their time spent together, as something horrible and hideous descends upon them.
Cast
Critic Reviews for Twentynine Palms
Audience Reviews for Twentynine Palms
Provocative but not relentless.I remote myself in a vast plain,mingled with the sky's peacefulness.I wouldn't wish though to have such temper aside of me.Palms as a fake plastic manuscript of thoughts and determinations.The couple is disjointed and yet so loving you feel their inner loss towards the end.Dumont shows how much a film can present without shaky camera movement and a classic film-making persona.The outcast figure.
Dimitris Springer
Super Reviewer
½
[font=Century Gothic]In Bruno Dumont's "Twentynine Palms", Dave is a photographer scouting locations in the California desert along with his French girlfriend, Katia. They are your typical couple, alternating bouts of lovemaking and arguing. But the real star of this movie is the beautifully desolate landscape that occasionally looks like it could be the surface of another planet. [/font][font=Century Gothic]"Twentynine Palms" is definitely an unsettling provocation that stays with you.[/font]
Twentynine Palms Quotes
There are no approved quotes yet for this movie.