Two Brothers
(2004)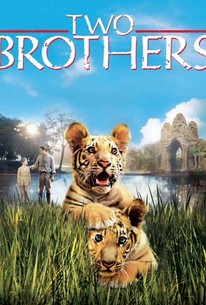 Movie Info
Like The Bear, director Jean-Jacques Annaud's acclaimed animal picture released 15 years prior, Two Brothers offers a family-friendly epic as told through the eyes of its four-legged protagonists, who, in this case, are sibling tiger cubs Koumal and Sangha. Though a life in the jungles of French colonial Indochina circa the 1920s seemed certain, the cubs are separated shortly after their birth when the notorious hunter Aidan McRory (Guy Pearce) kills their father. Koumal is whisked away to a circus, where he is cruelly beaten into submission and forced to perform tricks to earn his keep. Sangha fares better at first -- he lands in the posh estate of a French government official who wants the big cat to serve as a companion for his lonely son, though a series of unforeseen circumstances ultimately finds Sangha in the hands of a man determined to turn him into an aggressive prizefighter. Understandably, neither tiger is happy with his arrangements, and both escape captivity in hopes of returning to the jungle. Unfortunately for them, the prospect of two loose tigers is hardly comforting for the locals, who quickly demand that McRory kill the cubs before they threaten the safety of the village. Once McRory finds the tigers in their natural habitat, however, he faces a crisis of conscience he hadn't thought possible. Two Brothers also features Jean-Claude Dreyfus and Freddie Highmore.
People Who Like this movie also like
News & Interviews for Two Brothers
Critic Reviews for Two Brothers
Audience Reviews for Two Brothers
Aidan McRory: Forgive me. Forgive me. There is nothing special about 'Two Brothers', the story of lions. I find it to be one of the most irritating films of all time, considering that we have no sympathy and don't have any interest in the films protagonists. We have great actors in this film (Guy Pierce, Jean-Jacques Annaud) but the characters they play are incredibly bland, especially Pierces character, who we don't care about what he commits or what the cost of his wrongdoings are. The scenery is unbelievably and incredibly uninteresting, as it stays the same as the film progresses. I'm trying not to bash this so hard, but I just can't help myself, never has a film been so impeccably detrimentally tedious and wearisome, that I would rather watch the 'Cheaper by the Dozen' remake than watch the opening credits of 'Two Brothers' again. Not recommended. Read more reviews at www.creedsdelight.com
Matt Goodman
Super Reviewer
½
Sad yet cute. Entertaining yet stupid. Feeling good vs plot cliches. I'm not quite sure what to say. I feel stupid if I give it a positive review, but I don't think it's a bad movie per say.
Dillon Lupky
Super Reviewer
Heartbreaking and wonderful all at the same time. Great film.
Leigh Ryan
Super Reviewer
Two Brothers Quotes
There are no approved quotes yet for this movie.