Typhoon
(2006)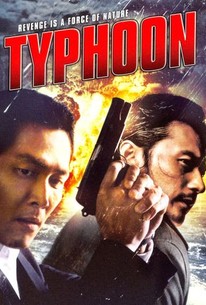 Movie Info
A would-be North Korean defector still reeling over the killing of his family by the communist government when he was just a child determines to destroy the Korean peninsula in a tense, politically minded action thriller directed by Kwak Kyung-taek and starring Jang Dong-gun, Lee Jung-jae, and Lee Mi-yeon. When a vessel sailing a few hundred kilometers off the northeast port of Jt Long in Taiwan is hijacked by pirates and the National Intelligence Service learns that a nuclear guidance kit has been stolen, they quickly dispatch naval lieutenant Kang, Se-jong (Lee Jung-jae) to find out who was responsible for the deed and to bring him to justice. The criminal mastermind in question is Sin (Jang Dong-gun), a man who harbors a deep-rooted hatred for the Korean government due to a tragic event that took place in his childhood. As a young boy, Sin's family had tried to defect to South Korea. When they were turned away by a government who feared complicating their relationship with China, however, Sin watched as his parents were brutally executed and his only sister, Choi, Myung-ju (Lee Mi-yeon), was taken away. Upon learning that Sin currently resides in Russia, Lieutenant Kang travels to the Eastern European republic as the tragedy of Sin's past slowly comes into focus for the sympathetic military man. His mission to apprehend Sin is clear, though, and despite his personal feelings Lieutenant Kang remains determined to get his man by any means necessary.
News & Interviews for Typhoon
Critic Reviews for Typhoon
Audience Reviews for Typhoon
½
Big budget Korean action drama about a modern day pirate with a serious grudge against both North and South Korea who threatens to unleash a nuclear cloud above both countries. It's all quite Americanized and resembles a Jerry Bruckheimer production at times, but it has its fair share of drama too as the back story and motives of the villain are played out. It's a pretty slick film with well staged action sequences but nothing we haven't seen before from Hollywood.
This Korean film is actually a melodrama cleverly disguised as an action thriller. Sure, on the surface there are plenty of gunfights and firepower, and the plot is about an impending terrorist act thrust upon South Korea. However, at its core the movie is about a North Korean family scorned and denied entry into the South, and the bitter aftermath of the surviving brother and sister. That inner story is truly touching and in the end plenty of sorrow. Typical reliable korean storytelling with fine acting especially by the villian more so than the stoic hero. Overall, definitely worth a watch!
A good film, but sadly, nothing special. When I heard the premise of modern day pirates, that was enough to get my hard earned bucks (a pirate movie that isn't tongue in cheek that is). But what starts as a high seas pirate adventure turns into a fairly routine cat and mouse picture after the opening credits. Plus, I love melodrama, Guy Maddin's one of my favourite directors, but some of the brother and sister relationship made me laugh out loud, it almost belonged in a comedy. Yet, I don't regret seeing it, it did have interesting, yet cliched characters, and a somewhat interesting story.
Christopher Brown
Super Reviewer
Typhoon Quotes
There are no approved quotes yet for this movie.