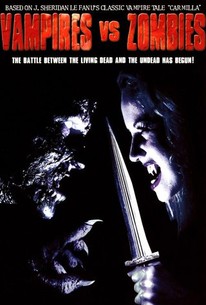 Vampires vs. Zombies
2004, Horror, 1h 25m
1 Reviews
1,000+ Ratings
Rate And Review
Vampires vs. Zombies Photos
Movie Info
Jenna's father whisks her away after she becomes afflicted with a vampiric disease, and on their way home, they encounter vampire Carmilla, zombies, and a vampire hunter.
Audience Reviews for Vampires vs. Zombies
Plot, what plot? Also, there isn't any battle between the living dead and the undead. Just a lot of lesbians and bad acting.

this movie was so fucking boring total shit never liked and never want to see this stupid shit again it looks sooo fake and i rent this movie at blockbuster becuz the cover looked gd and i hate myself for renting it i thought it would be gd but it is was i hate this movie they should have never made this stupid movie i regert renting and did not like it not worth watching it aboustely SHIT!!!

Do NOT be duped by this title. There is not a single legitimate vampire versus a zombie scene in the entire movie, besides this possibly being one of the worst movies ever. I got 11 cents for my copy of this at one of those national retail chain entertainment stores that does trade-ins. I was really surprised because I was sure they were going to charge me instead, like a waste disposal fee. Apparently, they slap it in a DVD case and, with hope, no one ever buys it, the store closes, and this finds it way liquidated into the dumpster out back. That is really seriously how shitty this movie is.

Absolutely boring. I tried watching this and it was horrible. Especially with the bad dubbing and the horrible sound effects, it sounded way too cartoonish with the sound effects. Terrible acting as well, one of the worst I've seen.
See Details