Vengeance Is Mine
(1979)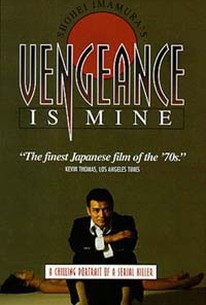 Movie Info
Based on the true story, 'Vengeance is Mine' is the story of Iwao Enokizu and his murderous rampage which sparked a 78-day nationwide manhunt. Enokizu is a day-laborer and smalltime con-artist who, after killing two of his co-workers, embarks on a psychopathic spree of rape and murder. Eluding the police and public, Japan's infamous "King of Criminals" passes himself off as a Kyoto University professor, only to become entangled with an innkeeper and her perverted mother.
Critic Reviews for Vengeance Is Mine
Audience Reviews for Vengeance Is Mine
It is based on a true story, but somehow it just didn't make any sense. It doesn't attempt to give any answers or insight into the killers motives and psyche, and maybe that's the intention of the director, I don't know. But in my opinion that doesn't make it a very good movie.
½
one of the most disturbing and highly effective films that i have ever seen. ken ogata is masterful as one of the most notorious serial killers in japanese history, and the film delivers near perfection on all ends from the acting, to the cinematography, to the script itself. the fact that this is based on a true story is what secures its believability as a man who eluded a nationwide manhunt in plain sight. nothing feels gimicky or forced and we see enough of the killers life in flashbacks to understand his deranged nature but not too much as to detract from the story. imamuras directing and the editing are first rate in this absolute classic. a must see.
½
Imamura's timeless film is a profile of a vicious sociopath which digs into the soul of (or lack thereof) its' central character and post-war Japan. Based on the story of a real-life criminal, Vengeance is Mine details the 78-day long killing-spree undertaken by Iwao Enokizu, who doesn't seek revenge from one particular person as you'd expect out of a genre picture. In fact, the film is driven by the ways he's hurt throughout his life, and the counterintuitive ways he seeks revenge. Vengeance is Mine explores the roots of Iwao's murderous tendencies. It leaves exact causes vague, but explores a drive that leads him down the path to repeated murder. Imamura's affection for Japan's criminals, outcasts, minority groups comes through with style and energy coupled with darkest humor and context, and is an obvious inspiration for contemporary filmmakers, including former apprentice Takashi Miike.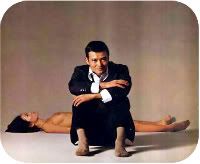 El Hombre Invisible
Super Reviewer
Vengeance Is Mine Quotes
There are no approved quotes yet for this movie.