Visions
(2015)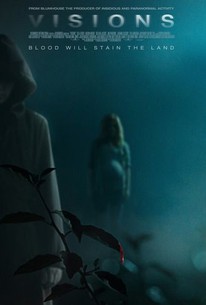 Movie Info
Leaving her hectic city lifestyle behind, young mother-to-be Eveleigh, joins her husband David, at their beautiful new vineyard home only to be plagued by terrifying noises and visions of a sinister hooded figure. No one else hears or sees these hallucinations, not even David, who grows increasingly worried about his wife's well-being. Desperate to prove her sanity, Eveleigh hunts down locals who reveal the haunted history of the vineyard in which she now resides. But when the pieces come together, the answer is far different - and more dangerous to her and her baby - than she ever imagined...
Critic Reviews for Visions
Audience Reviews for Visions
Would probably have liked it better if it was called LITERALLY ANYTHING OTHER THAN VISIONS. Seriously what kind of movie ruins its own plot in the title? Also Isla Fisher is subpar in this at best. Even so, there was definite potential here.
½
Isla Fisher stars in the atmospheric supernatural horror film Visions. The story follows a pregnant wife who starts a winery with her husband, and soon begins to experience strange visions. The plot follows a pretty standard haunted house formula, but ends up taking an expected turn at the end. Additionally, the filmmakers do a good job at ratcheting up the tension and setting up the mystery. Yet the characters are a little underdeveloped and the scares are fairly tame. While Visions does some interesting things, overall it's a rather mediocre thriller.
Dann Michalski
Super Reviewer
Disappointing isn't a word I've used for 2016 but here we are. Lame jumps and poor storytelling, Blumhouse Productions isn't a sign of quality anymore and it's a shame.
Brendan Nicholls
Super Reviewer
Visions Quotes
There are no approved quotes yet for this movie.