Vivere
(2007)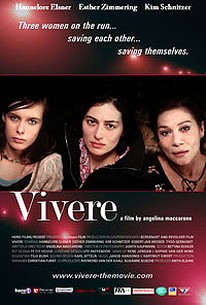 Movie Info
Francesca and her younger sister, Antonietta, are as different as day and night. By day, Francesca holds the household together and at night she earns a living operating a taxi. Antonietta, however, is a rebellious teenager and desperately wants to get away from the gray confinement of their Cologne suburb. Together with her musician boyfriend, she runs away to Rotterdam, followed by a concerned Francesca who goes in search of her.
News & Interviews for Vivere
Critic Reviews for Vivere
Audience Reviews for Vivere
½
[font=Century Gothic]In "Vivere," Francesca(Esther Zimmering) is by default the mature one in her family, caring both for her father(Aykut Kayacik) and younger sister, Antoinetta(Kim Schnitzer). So, when Antoinetta runs off to Rotterdam just before Christmas, it is up to her older sister to bring her back in her cab so the family can celebrate the holiday together. Along the way, she comes across Gerlinde(Hannelore Elsner), who has just been in a car accident. Dutifully, she drops her off at a nearby hospital but she turns up in the cab again. Not being able to get rid of her so easily, they travel together to Rotterdam.[/font] [font=Century Gothic][/font] [font=Century Gothic]"Vivere" is a solid movie about loneliness, responsibility and family which all come into play around the holidays, giving everyone a collective headache. What originally starts off resembling "Free Zone" with a plot, eventually gets to a point where it rewinds to tell the story from each woman's viewpoint, revealing back story and a secret or two. And of the three, Francesca's is the most compelling. Even while obeying her father's wishes in going to Rotterdam, she experiences true freedom for the first time.[/font]
Vivere Quotes
There are no approved quotes yet for this movie.