Waco: The Rules of Engagement
(1997)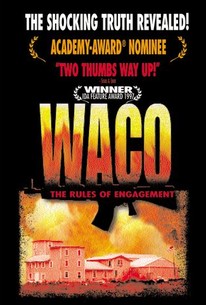 Waco: The Rules of Engagement Photos
Movie Info
In this provocative documentary, the events leading up to the tragic 51-day stand-off between the United States government and religious leader David Koresh's Branch Davidians in 1994 are seen in a slightly different light, one that intimates that the Federal government is concealing key pieces of information regarding whether or not the situation needed to end with the immolation of 70 cult members, some of whom were women and children. To build his case, filmmaker William Gazecki edited together interviews, news footage, home movies and television coverage on the Senate hearings. To say that Gazecki presents a different side of the sensitive issue is not to say that his film presents a one-sided view of Koresh and his followers as martyrs; it does not, but it does give pause for thought as to whether or not the government could have prevented the catastrophe.
Critic Reviews for Waco: The Rules of Engagement
Audience Reviews for Waco: The Rules of Engagement
The raw footage is phenomenal. One of the most detailed chronicles of a police raid ever captured. Questioned who the most dangerous presence was on that fateful day - the cult leaders or the FBI.
John Ballantine
Super Reviewer
David Koresh was no doubt a crazy individual who most likely did engage in sex with underage girls, however it is clear that the FBI and the ATF grossly overstepped their bounds and covered-up a massive cluster-fuck that led to the deaths of nearly all the Branch Davidians (many of them innocent children). The film will make you so angry at the federal government and the media.
Alec Barniskis
Super Reviewer
A horrific look at the Feds' wanton destruction and violation of its own citizen's rights. Intolerance, revenge, deceit, military zealotry and poor management all factor into the events that occurred on those days in 1993. The Davidians believed the apocalypse was inevitable, the ATF; in their shortsighted recklessness, gave them just that. Watch in amazement as the bureaucratic food chain cover their collective asses with a never-ending series of lies and cover-ups. Keep on the lookout for a cameo appearance by our VP Mr. Biden who denies government responsibility. Hooray! What makes this truly powerful as a documentary, however, is in the fact that there are good people out there. People who are not sheep, people who have a conscience and operate on a plane beyond the chain of command. Good folks who can stand up and object, not just fall over like dominos with a powder keg waiting at the end. Also, to the other reviewers here that keep mentioning mass suicide: you're confusing this with the Jonestown massacre. The Branch Davidians were not a suicide cult. It was deaths of innocents triggered by ATF actions. .
Brett Warren
Super Reviewer
Waco: The Rules of Engagement Quotes
There are no approved quotes yet for this movie.