Where Do We Go Now?
(2012)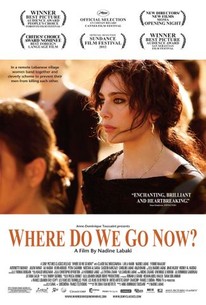 Where Do We Go Now? Photos
Movie Info
Set in a remote village where the church and the mosque stand side by side, Where Do We Go Now? follows the antics of the town's women to keep their blowhard men from starting a religious war. Women heartsick over sons, husbands and fathers lost to previous flare-ups unite to distract their men with clever ruses, from faking a miracle to hiring a troop of Ukrainian strippers. -- (C) Sony Pictures Classics
News & Interviews for Where Do We Go Now?
Critic Reviews for Where Do We Go Now?
Audience Reviews for Where Do We Go Now?
Labaki fails trying to combine in the same film a lighthearted comedy and a serious statement on intolerance in the Middle East, as her story moves with no tact from constant silly jokes to tragedy to melodrama and ends with a naive last scene that is an offense to the viewer's intelligence.
Carlos Magalhães
Super Reviewer
Odd little movie..but quirky. Part musical at times (random singing sequences--ex. women singing together whilst they bake goodies to drug the men in their village). Seemed a little confused on whether it wanted to be a comedy, drama, or a musical. It even had a blossoming love connection that they started, then seemed to forget about. Like a said...odd movie.
Cynthia S.
Super Reviewer
"Where Do We Go Now?" walks a fine line from scene to scene. It's religious subject matter is undeniably touchy, but director Nadine Labaki and co. confront these age old issues with lighthearted farce, sentimentality, hard drama, jarring musical numbers and no little whimsy. Few films could have such element coexist to positive results, but Labaki uses them to strengthen the film. They don't come off as superficial and compliment her vision. This is a great little film that deserves to be seen for a myriad of reasons, most of which is it's impressive thematic balancing act. If you are looking for a stern, serious condemnation of religious indifferences, look elsewhere. "Where Do We Go Now?" is a parable that plays by it's own rules, in it's own world, but screams just as loud.
Where Do We Go Now? Quotes
There are no approved quotes yet for this movie.