White Mane
(1952)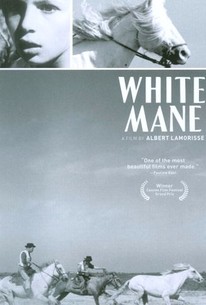 AUDIENCE SCORE
Critic Consensus: No consensus yet.
Movie Info
In this French short subject, the titular protagonist is a courageous white stallion. Despite repeated attempts, the stallion steadfastly refuses to be captured and broken. There is a delicate fantasy element to the proceedings that might have been shattered had director Albert Lamorisse extended the film beyond its 38 minutes.
Critic Reviews for White Mane
All Critics (4) | Top Critics (1) | Fresh (4) | Rotten (0) | DVD (1)
Beauty in Albert Lamorisse's brand of cinematic poetry stems from a childlike view of the world that sees bliss and sorrow as inseparably bound and equally enchanted.
For a 50-minute film, White Mane gives you a whole lot to think about and to remember.
The black-and-white shots are beautiful . . . then there is the closing shot, a fantastic melding of escape and loss.
December 15, 2007
Audience Reviews for White Mane
[font=Century Gothic]"White Mane" and "The Red Balloon" are two exceptional films by Albert Lamorisse about innocence and friendship in childhood. Of the two, "White Mane" is the more traditional of the two, focusing on Folco(Alain Emery), a fisher boy in the south of France, who befriends a wild horse that local men are coveting. As good as this is, it is no match for the inventively playful "The Red Balloon" which is about a young boy(Pascal Lamorisse) who finds a red balloon and their adventures in Paris. With this almost wordless film, Albert Lamorisse has complete confidence in himself as a filmmaker, composing sequences that boggle the mind as to how they were made. And if you know, please don't tell me.[/font]
An optimistic and poetic story of childhood and taking control of your destiny. A really well done film and one that is shot beautifully! It's only 40 minutes long and in this short time it helps to convey a lot that will make you think after the film has ended!
Chris Browning
Super Reviewer
A quietly logical film,the tale has certainly scattered elements from Exupery's philosophy and a childish mood such is in C.S. Lewis' Narnia books (check out the Horse and his Boy book),a balanced moral in the finale but a complete nectar.
Dimitris Springer
Super Reviewer
White Mane Quotes
There are no approved quotes yet for this movie.