Wired
(1989)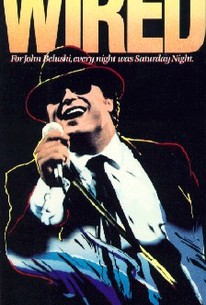 TOMATOMETER
AUDIENCE SCORE
Critic Consensus: A tasteless unintentional parody of the life it attempts to dramatize, Wired butchers John Belushi's memory with a misguided screenplay and unnecessary recreations of classic performances.
Movie Info
This film, loosely-based on the book by Bob Woodward, follows the career of comedian John Belushi (Michael Chiklis) as his spirit is guided through the past by the Angel Velasquez (Ray Sharkey).
Rating:
R (adult situations/language, nudity)
Genre:
, ,
Directed By:
In Theaters:
Runtime:
Studio:
Live Home Video
News & Interviews for Wired
Audience Reviews for Wired
Surprised Chiklis ever recovered from such a bull$hit attempt by the producers at telling this story.
bill secor
I had never seen Wired until this week. Never wanted to see it, for whatever reason. I love truly terrible movies, I watch SNL, have since I was a kid, I certainly like Chiklis a lot, after his career recovery. Good god. The only explanation, trite as it may be, I can come with for this movie is that a bunch of people decided that the best way to make a movie about Belushi was do a lot of coke themselves. This is one of those movies where absolutely everything that can be done wrong, it's done wronger. No wonder it's unavailable, it's like watching that Roger Corman Fantastic Four movie. Gah.
Robert Lee
AN ULTIMATE ANTI-DRUG MOVIE. The morning after John Belushi died on March 5, 1982, my friends and I on our school-bus were talking about the speed-ball ("fireball") John Belushi died from and how somebody else must have injected the speed-ball into John Belushi's arm because "how else could a fatal dose of cocaine and heroin be injected into an arm of a dead guy". At the moment of the conversation about speedballs and cocaine and heroin being the ingredients in a speedball, I fully understood that Cocaine and Heroin are drugs that can kill you and injecting drugs into your arm is almost a sure way to die. Because of John Belushi, I am probably still alive today; having LEARNED that Cocaine kills and Heroin also kills. WIRED based on the Bob Woodward biography of John Belushi is an ULTIMATE REMINDER (or SYMBOL) to me of what cocaine and heroin do to a person. Drugs turned John Belushi, a truly LOVING and LOVABLE guy into an absolute MONSTER to wreak-havoc on his loved-ones and us fans who loved him dearly as well. If you die from a drug overdose, WIRED tells me every time I think of it, the manner people who die of drug overdoses are immortalized: people's memory of you will always be partially eclipsed by the way you died and how you treated people. WIRED the movie suffers from people in John Belushi's real life not co-operating with the production and making the actual filmmakers fearful and demoralized and discouraged from making a great film. WIRED feels like the filmmakers were on cocaine themselves during part of the time they put the film together. There are clearly two stories (perhaps two screenplays even) being run, acted, and edited simultaneously: first there's the angel taking John Belushi's ghost around in a taxi and there's another "movie" in side WIRED that's totally unaware of the John Belushi-Ghost movie's existence which is about Bob Woodward's researching his book abut John Beluyshi's life. In other words WIRED is a mess of a film that through the symbology of its very existence illustrates/EPITOMIZES a very messy life and a very messy death and all of the messy feelings and memories everyone old enough to have "known" John Belushi holds for John Belushi. WIRED is 100% because WIRED is a perfect reminder of the pain and suffering cocaine and heroin brings-upon everyone. (in fact my neighbor died of a heroin overdose 11 years ago; heroin literally took the little 21 year old kid over and turned a very talented young man into a monster who died from the drug)
Gordon Terry
Wired Quotes
There are no approved quotes yet for this movie.
Discussion Forum
Discuss Wired on our Movie forum!