Without the King
(2007)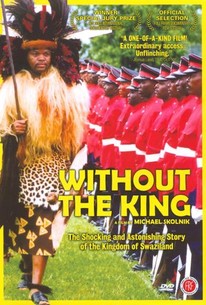 Movie Info
Sandwiched tightly in between South Africa and Mozambique, the nation of Swaziland sits poised on the brink of revolution. It also appears to exist outside of modern history, as the last remaining monarchical African state. The country battles such problems as a 43-percent AIDS/HIV rate, terrorist cells littering the countryside, and -- most significantly -- a large, angry populace ready to revolt. Meanwhile, the Swazi king, Mswati III, price shops for a fleet of limousines and evinces a frightening lack of touch with his country's needs by banning political parties and leaning heavily on an ineffectual constitution. As unrest erupts outside of the palace, a quieter storm brews within, springing from the political discontent of the king's heiress, rapper Princess Sikhanyiso. In his documentary Without the King, filmmaker Michael Skolnik cross-sections this regime to provide a series of stunning and frequently shocking revelations and insights about a nation that may soon be rocked by the turbulence of sociopolitical change.
Critic Reviews for Without the King
Audience Reviews for Without the King
A good documentary on Swaziland and its insistence on remaining under a monarch who seems to marry every woman in the country and lives in luxury while his people starve. You get the sense that his heir has woken up to the issues of the country but somehow you know it isn't going to end well for this King.
John Ballantine
Super Reviewer
[font=Century Gothic]"Without the King" is a very illuminating documentary about Swaziland, one of the last remaining absolute monarchies in the world and judging by conditions its days may be numbered as people there are driven to activism and rebellion.(The mention of civil wars in Africa is a generalization. Not all countries there are unstable and violent. However, the situations in Sudan and Rwanda have been classified as genocides.) There is a written constitution but it is so limited with almost total power residing with the king that it is worth less than the paper it is written on. [/font] [font=Century Gothic][/font] [font=Century Gothic]King Mswati III is first shown in the company of world leaders and Michael Jackson. While he has amassed an enormous personal fortune after taking over from his father in 1986 at the age of 18, his country is literally starving.(He is one of 250 children and already has multiple wives.) Most of the food is donated from abroad because there is so little edible food produced in country. That along with a HIV/AIDS infection rate of 42.6% drives the average life expectancy down to 31 years. For future reference, relying only on talk about chastity will do little good to stop the disease unless condoms are also included in a plan. Following Princess Sikhanyiso as she attends college in California serves as a very long introduction to the patriarchy of Swaziland which is at least partially at fault.[/font] [font=Century Gothic][/font] [font=Century Gothic][/font]
Without the King Quotes
There are no approved quotes yet for this movie.