Yi ngoi (Accident)
(2009)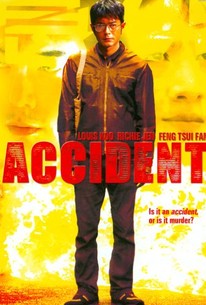 AUDIENCE SCORE
Critic Consensus: No consensus yet.
Yi ngoi (Accident) Photos
Movie Info
A hit man with his own way of doing things wonders if the tables are being turned on him in this intelligent thriller from Hong Kong director Soi Cheang. Ho Kwok-fai (Louis Koo) is an unusually talented hired killer known in criminal circles as the Brain. The Brain is a man who can pull off a hit without ever having to pull a gun; instead, he and his cronies (Lam Suet, Feng Tsui-fan and Michelle Ye) stage what he calls "choreographed accidents," in which they arrange for an event to take place that will look like a deadly act of fate to outsiders but is in fact a deliberate murder. The Brain senses there are feelings of anger and mistrust among his crew, and he's placed surveillance equipment in their office space to find out what they're saying when he isn't around. When a client named Wong (Chan Mong-wah) insists upon an especially complex "accident" to claim the life of his father, things don't go as expected; the Brain narrowly escapes death and one of his assistants is killed. Now the Brain has to find out if the hit that went wrong wasn't in fact an "accident" meant to assassinate him. Yi Gnoi (aka Accident) was an official selection at the 2009 Venice International Film Festival.
Critic Reviews for Yi ngoi (Accident)
Audience Reviews for Yi ngoi (Accident)
I enjoyed this movie. It's definitely, for an 80 minute film (not counting the credits), a bit slow but I think the movie does a good job at keeping you into the story. Personally, I wasn't enthusiastically into the story, but I was intrigued and interested in finding out what was happening. The dialogue is very minimal, but I think find a way at making the film easy to follow and not confusing. Louis Koo does a good job as this man who, because of the nature of his job, immediately assumes something is up when the shit hits the fan. The movie does try to give the character a little back-story and a reason for you to connect with him with having his wife die in a car crash and how that haunts him throughout the entire movie. It's not great but at least they give you something. One of the best things about the film is that it builds up to an excellent and, ultimately, satisfying ending. It certainly made the whole thing worth watching because of the ending. It isn't mind-blowing, but I did think it was very cool and made a movie that, until that point, was solid but uninteresting into a good flick. I wouldn't give it a glowing recommendation, but I did like what I saw here so I can't complain too much.
Jesse Ortega
Super Reviewer
A fantastic surprise. This movie I absolutely loved. I'd encourage you to get this without reading anymore on the topic. Still, here's my review. The film begins with a well shot scene involving lots of close-ups on the most mundane of objects. It's shot with a taste of suspicion. Imagine the death scenes in Final Destination and that's what we have here. A little more toned down than that but you should certainly have an open-mind for jumps in logic. Accident has the kind of high-concept plot that you'll find scattered around movie land. A gang of assassins makes their hits look like accidents, but it all goes pear shaped when an accident befalls the group themselves. Only, was it an accident. The nature of these assassins work leaves them paranoid and restless. The film is successful because it takes the mature route of exploring its themes. There is some action, but it gradually winds down into a more procedural spy type film. The main character is a man that has dealt with loss, and then dealt it out himself. He sees nothing as an accident, but are the recent events hostile acts against him, or just coincidences? Each action scene is marvelously underplayed, with minimalist-no music. By the time the final credits role I was emotionally exhausted and thoroughly entertained. A high-concept film, that requires both brains and letting some logic slide.
Luke Baldock
Super Reviewer
½
Pou-Soi Cheang's Accident is a Hong Kong thriller with a title that goes a long way.
The run time is under 90 minutes and that is pretty appropriate for what goes on with the story. The pacing is a bit on the slow side and there is a minimal amount of dialogue and action; however, this film is far from boring. The cinematography is more than adequate and the motions and expressions of the characters are enough to move this film along.
This picture's most successful element is the mystery. Accident does an excellent job at arousing curiosity and slowly revealing things as necessary to maintain its hold on the interest level.
The characters are easy to follow and some do lack some background, but in the end, it is all about Louis Koo. He is pretty emotionless and rather quiet, but that fuses well into his character. Richie Ren takes a while to show up and he, as well as the rest of the supporting cast, also bring good performances to the table.
The conclusion lives up to the title, while at the same time it may come across as unfulfilling. Nevertheless, Accident is a Hong Kong thriller worth checking out.
Yi ngoi (Accident) Quotes
There are no approved quotes yet for this movie.