Yojimbo
(1961)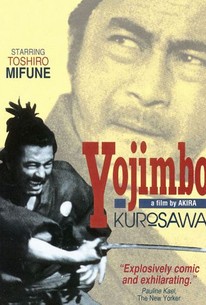 TOMATOMETER
AUDIENCE SCORE
Critic Consensus: As effortlessly engaging as it is widely influential, Yojimbo represents Kurosawa at the peak of his powers -- and lays the groundwork for the modern American western.
Movie Info
Toshiro Mifune portrays a Samurai who finds himself in the middle of a feud-torn Japanese village. Neither side is particularly honorable, but Mifune is hungry and impoverished, so he agrees to work as bodyguard (or Yojimbo) for a silk merchant (Kamatari Fujiwara) against a sake merchant (Takashi Shimura). He then pretends to go to work for the other, the better to let the enemies tear each other apart. Imprisoned for his "treachery," he escapes just in time to watch the two warring sides wipe each other out. This was his plan all along, and now that peace has been restored, he leaves the village for further exploits. Yes, Yojimbo was the prototype for the Clint Eastwood "Man with No Name" picture A Fistful of Dollars (1964). The difference is that Fistful relies on Eastwood for its success, whereas Yojimbo scores on every creative level, from director Akira Kurosawa to cinematographer Kazuo Miyagawa to Mifune's classic lead performance.
News & Interviews for Yojimbo
Critic Reviews for Yojimbo
Audience Reviews for Yojimbo
Kurosawa's classic film that served as a major inspiration for other directors like Sergio Leone and Quentin Tarantino, employing a curious, dark sense of humor in a very entertaining samurai story that also features a great performance by Toshiro Mifune.
Carlos Magalhães
Super Reviewer
Akira Kurosawa helms this phenomenal action drama that elevates the genre of Samurai films even further. His style is unique, one that evokes a strong sense of grand storytelling, which was the case with Seven Samurai. Yojimbo is a great film, one that boasts an impressive cast of actors, a good script, and well paced, thought out scenes that make this film standout. I much preferred Seven Samurai to this film, nonetheless, it's a good film, one that should be seen by fans of the director, and if you enjoy these films, then you ought to check this one out. The film is very well acted and directed, as well as it helped influence many films that would try to duplicate it, but never quite match it. This is a well crafted picture, one that ranks among the finest genre films ever made, and the way it's shot, with its simple story and its acting really ring through. This is a phenomenal film, and definitely one of Akira Kurosawa's best films. The film works well on many levels, and if you enjoy a well constructed story, with plenty of action, thrills and memorable scenes, Yojimbo is such a picture worth seeing. This is a genre classic, one that ranks among the finest samurai films ever made, and it's an expertly crafted picture that has a unique directorial touch that Akira Kurosawa could provide. His filmmaking is wonderful, and gets most out of the scenes because of the cinematography, which is always one of the highpoint of his pictures. Add to that a great sense of storytelling, and you a film that is both grand and memorable, as well as furthering the art of terrific Samurai movies to the big screen. If you've enjoyed Seven Samurai, you're sure to enjoy this powerful piece of cinema, and it's a picture that has a standout legacy, which influenced countless other filmmakers, some of the finest directors to create their own slice of cinematic history. Yojimbo is great for what it is, but it's not as epic in scope as Seven Samurai, which is hard to beat. Nonetheless, Yojimbo is a solid film well worth seeing.
A hugely influential and masterfully constructed samurai tale with Western undertones concerning an impoverished roamer (Toshiro Mifune) who comes to a small Japanese town ruled by two evil gangs who threaten to tear it apart. Instead of taking one side over the other, the drifter elects to in turn attempt to manipulate each group into destroying each other, although this proves not to be a plan without flaws, including a nearly fatal lesson in pride going before the fall. Mifune is absolutely phenomenal, as he effortlessly portrays a character that is committed to accomplishing what the common good is for everyone. The themes of power, pride, redemption, and equality are ones that prove to be utterly arresting thanks to the wonderful direction from legendary filmmaker Akira Kurosawa. Mostly, this is a simple movie that does not try to be anything more than it is, but ultimately, thanks as well to a thrilling finale, this is a masterpiece.
Dan Schultz
Super Reviewer
Yojimbo Quotes
There are no approved quotes yet for this movie.