You Might as Well Live
(2009)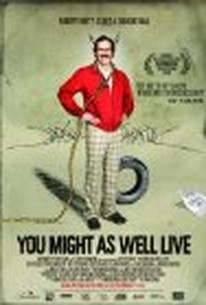 You Might as Well Live Photos
Movie Info
A certified loser sets out to prove that he's "a real somebody" by procuring the three items that his childhood hero claims every winner has in this morbid comedy from writer/director Simon R. Ennis. Hard as he may try, Robert R. Mutt (Joshua Pearce) can never catch an even break; after failing to take his own life, he's kicked out of Riverside Mental Hospital for being too happy. Desperate to live up to his potential and prove that he's not a loser, Robert seeks out the advice of former local baseball superstar Clinton Manitoba (Michael Madsen). According to Clinton, there are three things a man needs to be whole: a woman, a nice wad of cash, and a championship ring. In no time, Robert has gotten mixed up in the drug racket, hooked-up with a roller-skating transvestite, and entered into an air hockey tournament. It may not be the most conventional path to success, but perhaps if Robert can stay true to his goal he can finally prove that he isn't the biggest nitwit in town. ~ Jason Buchanan, Rovi
Critic Reviews for You Might as Well Live
Audience Reviews for You Might as Well Live
½
A typical Canadian film - low budget, no-name actors - but this one does not really have a textbook plot. In this film, the 'hero', Robert is unwillingly graduated from the mental asylum where he belongs. Robert has to try and make it in the real world, although his world is pretty strange to start with. We get to follow him through his journey. I never thought I would say this, but there is too much nudity in this film.
You Might as Well Live Quotes
There are no approved quotes yet for this movie.