Your Friends & Neighbors
(1998)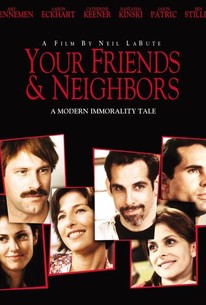 TOMATOMETER
AUDIENCE SCORE
Critic Consensus: Though it may strike some viewers as cold and unpleasant, Neil LaBute's Your Friends & Neighbors is an incisive critique of sexual politics wrapped up in a scathing black comedy.
Your Friends & Neighbors Photos
Movie Info
On the heels of his award-winning debut, In the Company of Men (1997), writer-director Neil LaBute moves from the corporate boardroom to the bedroom but continues to explore male-female relationships in this modern morality tale, a dark comedic commentary on social interactions and sexual politics among upscale urbanites. Six characters are introduced: After womanizer Cary (Jason Patric) is seen rehearsing make-out lines into a tape recorder, the scene shifts to a montage of marrieds as several couples couple between the sheets. Terri (Catherine Keener) is living with a theater instructor Jerry (Ben Stiller), but she's tired of listening to his monologues in the middle of lovemaking. Also plagued by marital-type problems are self-denigrating Mary (Amy Brenneman) and impotent Barry (Aaron Eckhart). Jerry's desire for an extramarital affair with Mary impacts on the lives of the others. Soon Terri takes an interest in an attractive art gallery employee, childlike Cheri (Nastassja Kinski). Betrayals and deceits ensue.
News & Interviews for Your Friends & Neighbors
Critic Reviews for Your Friends & Neighbors
Audience Reviews for Your Friends & Neighbors
Six people with various sexual inadequacies act cruelly toward one another. Because it's essentially a character study, I couldn't think of a better way to sum up the plot of Your Friends and Neighbors. Neil LaBute is the expert at giving us unpardonable characters doing cruel things, but the plot and characters' actions are usually designed to expose a societal foible or comment upon the inevitable impossibility of human connection and communication. I think about The Shape of Things where LaBute shows us how people transform themselves -- oftentimes essentially -- to please a significant other or the play Fat Pig in which social pressures convince a man to deny himself of love. These works are LaBute at his finest, but on the other hand is In the Company of Men in which people do cruel things because they can. And in Your Friends and Neighbors people do cruel things because they can. The film's most redeeming qualities are its actors. The best performance comes from Jason Patric, whose monologue in the sauna is one of the most haunting moments in the film, and his character's "It's my time now" philosophy is articulated in some of LaBute's best sentences. Overall, though LaBute's dialogue is very good and the actors are fantastic, there isn't a substantive story or a guiding theme to move the film along; it remains a character study, stagnant, like many of the lives it depicts.
Jim Hunter
Super Reviewer
Neil LaBute's follow up to "In the Company of Men" is another brilliantly vicious and savage dark dramedy... this time focusing on the destruction of a few unhappy couples and the web of "relationships" spawned during and in the aftermath. LaBute is in a league of his own when it comes to making a film about completely repulsive and unlikeable people and having his film be anything but. He cooks with disturbing material here, but manages to keep it riveting, real, and frequently (uncomfortably) comedic. Strong cast, but Jason Patrick is the standout, giving a career best performance and laying down one of the most unforgettable and disturbing speeches I've heard in the movies. "Your Friends and Neighbors" is an excellent film with A LOT to say. Viewers who can handle the film's harsh subject-matter will be rewarded.
Neil LaBute's "Your Friends & Neighbors" is quite possibly the meanest film I have ever seen. These characters are some of, if not, the worst I have ever come across. What makes them worse than, say Hannibal Lecter, is how they stealthily move behind each others backs to wound each other in the worst and most emotionally damaging ways. You should not be treading lightly when you sit down to view this picture. It's a nasty piece of work. So then why is my rating so high? Because it's also a terrific film. The acting is tremendous and LaBute (who is also a playwright) has some insanely fine tuned dialogue. My guess is that if you don't like hard relationship drama's like "Closer" you wont even come across "Your Friends & Neighbors," and I think that those who search it out will find much to admire. Think of this film as what would become of the college kids in Roger Avery's "The Rules of Attraction" once they hit middle age.
Steven Carrier
Super Reviewer
Your Friends & Neighbors Quotes