Zero for Conduct (Zero de Conduite)
(1933)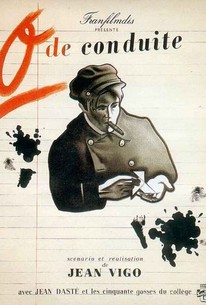 Movie Info
The shortest of French filmmaker Jean Vigo's two feature-length films, Zero for Conduct (Zero de Conduite) is also arguably his most influential. The overtly autobiographical plotline takes place at a painfully strict boys' boarding school, presided over by such petit-bourgeous tyrants as a discipline-dispensing dwarf. The students revolt against the monotony of their daily routine by erupting into a outsized pillow fight. Their final assault occurs during a prim-and-proper school ceremony, wherein the headmasters are bombarded with fruit. Like all of Vigo's works, Zero for Conduct was greeted with outrage by the "right" people. Thanks to pressure from civic and educational groups, this exhilaratingly anarchistic film was banned from public exhibition until 1945. Among the future filmmakers influenced by Zero for Conduct was Lindsay Anderson, who unabashedly used the Vigo film as blueprint for his own anti-establishment exercise If....
Critic Reviews for Zero for Conduct (Zero de Conduite)
Audience Reviews for Zero for Conduct (Zero de Conduite)
½
Boys at a French boarding school stage a revolt in this heavily anarchist, mildly surreal short (45 min.) feature. A playful but slow-moving curiosity, with a dwarf headmaster and some interesting surprises (including trick photography and an unexpected animated sequence). Historically, it's very interesting, but its importance has been exaggerated by the fact that the French government banned it for 13 years!
½
While some critics complain of Zero de Conduite being filmed chaotic, It's this sense of chaos that portrays the literal chaos in the film. One of the earliest and most influential films about children and anarchy, Zero de Conduite inspired countless Directors and films. The two most notable and acclaimed being The 400 Blows and If...., both of which are masterpieces. Anarchy is at the core of Vigo's beliefs and films, this being the most literal adaptation and one so revolutionary that it was banned until 1945.
Chris Browning
Super Reviewer
½
One of the oldest movies about rebellious youngsters. Other than that, it's not a fantastic movie.
Zero for Conduct (Zero de Conduite) Quotes
There are no approved quotes yet for this movie.