Zizek!
(2005)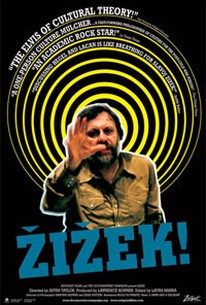 Movie Info
The author of works on subjects as wide-ranging as Alfred Hitchcock, 9/11, opera, Christianity, Lenin and David Lynch, Slovenian philosopher Slavoj Zizek is one of the most important -- and outrageous -- cultural theorists working today. This captivating, erudite documentary explores the eccentric personality and esoteric work of this incomparable academic and writer, who has been called everything from "the Elvis of cultural theory" to "a one-person culture mulcher."
Critic Reviews for Zizek!
Audience Reviews for Zizek!
[font=Century Gothic]"Zizek!" is a mildly interesting documentary that follows Slavoj Zizek, a political philosopher, as he gives talks in New York, Boston, Argentina and his native turf of Slovenia where he holds down a day job as a university lecturer. His talks combine the theories of Karl Marx and Lancanian psychology into a vibrant attack on capitalism.(An attempt is made to explain some of his theories, giving a partial introduction to his writings in the process, but I wish it had been simple enough for a layman to understand. And admittedly, I'm lost when it comes to understanding psychology.) His appeal comes from an extraordinary ability to have complex theories simply roll off the tongue. Also, unlike the stereotypical philosopher, he is not the shy type, instead willing to jump into the fray on occasion. However, he does not enjoy the fame that has come along with his notoriety. A more detailed personal history would have helped in understanding him better. And some of the tangents are simply irrelevent.(For example, instead of Zizek roaming the aisles of Mondo Kim's, I would have preferred him to talk about movies instead. But that's a different film...)[/font]
Zizek! Quotes
There are no approved quotes yet for this movie.