Zombie Honeymoon
(2004)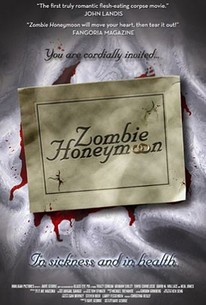 Movie Info
A young bride says "until death do us part," but finds that doesn't necessarily put an end to her romance in this offbeat blend of horror, comedy, and romance. Danny (Graham Sibley) and Denise (Tracy Coogan) are a young couple who have just gotten married and head off to a beachside bungalow to celebrate their honeymoon. While enjoying a sunny afternoon on the beach, Danny and Denise's idyllic getaway takes a turn for the worse when a monster rises from the ocean and attacks Danny. The creature spews poison into Danny's mouth, and soon the new husband is dead. But Danny isn't gone for long -- he unexpectedly regains consciousness, but Denise soon learns that her new mate has become a flesh-eating zombie, and that the former vegetarian now has a taste for human beings. But Danny still has one link with the world of the living -- he loves Denise with all his heart, and struggles to keep his monstrous appetites under control for her sake, while Denise remains deeply in love with Danny, and tries to adjust to the strange and monstrous changes taking place in the man she married. Zombie Honeymoon was written and directed by Dave Gebroe, who was inspired to make the film by his sister, a horror film fan who lost her husband in a surfing accident not long after they were wed.
Critic Reviews for Zombie Honeymoon
Audience Reviews for Zombie Honeymoon
Independently made zombie tale with a tragi-romance theme about a newly married couple who's short-lived honeymoon is turned into a nightmare when the husband is turned into a flesheater after being attacked at the beach. It's not a film that's been made to show off some gore or yet another homage to "Night of the Living Dead", it's tried something different and it's to be commended for that. The story itself is heart-felt enough but the comedic moments seem out of place. There are a few bloody moments now and then but no gore typically seen in this genre. To be honest though I do prefer your more traditional zombie flick no matter how many times they've been done, but this one is still worthy of a watch.
terrible film DO NOT WATCH!!!!!!!!!!
Brian De Guelle
Super Reviewer
½
SO bad. Despite the amazing pretense of a zombie honeymoon, poor quality film, acting, script, etc make this a bust.
Curtis Lilly
Super Reviewer
Zombie Honeymoon Quotes
| | |
| --- | --- |
| Danny: | I guess vegetarians don't make good cannibals do they? |
| | |
| --- | --- |
| Danny: | Look, all I am trying to do is kill as few people as possible before we got on the plane tomorrow, okay?!" |
| Danny: | Look, all I am trying to do is kill as few people as possible before we got on the plane tomorrow, okay? |
| Danny: | Look, all I am trying to do is kill as few people as possible before we get on the plane tomorrow, okay? |