Zou Zou
(1989)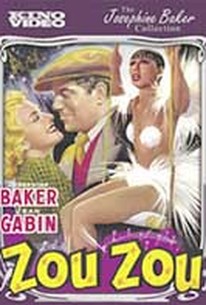 AUDIENCE SCORE
Critic Consensus: No consensus yet.
Movie Info
Zou Zou is one of a handful of French musical films made by the flamboyant African-American entertainer Josephine Baker. The star plays a Creole laundress who becomes an overnight stage success when she subs for a tempestuous diva. She goes on to experience the requisite professional highs and personal lows, and to briefly enjoy the attentions of French matinée idol Jean (Jean Gabin). La Baker's costumes reveal virtually everything but what she's eaten for breakfast, and her dancing is just a step away from obscenely erotic. In short, the film represents Josephine Baker at her outrageous best, making this film a must for fans and casual admirers alike. ~ Hal Erickson, Rovi
Critic Reviews for Zou Zou
Audience Reviews for Zou Zou
½
Zouzou feels like a French version of a pre-code Hollywood film, though I don't believe French filmmakers ever had the equivalent of the Hays Code inflicted upon them. It has bawdy dialogue, scantily clad women, a silly plot, and an alluring star in Josephine Baker. Of course, the fact that Baker was an African-American and simply allowed to be a leading lady, without a lot made over her skin color, is something that was unthinkable in America at the time. There are a couple of other things you wouldn't see in an American film; the F bomb is dropped in one scene, and there are a couple of instances of near toplessness. The film is light in tone and rather playful, and what it also stars Jean Gabin, Baker is the reason to watch it. While she's a little overly emotive in her acting, her joy is infectious. In one scene, director Marc Allegret emphasizes her elongated form and curves with her giant shadow moving along with her as she dances. In another, she sings as if she were a canary in a giant birdcage, swinging back and forth in the smallest of feathery outfits. "He runs after all the girls, they are all at his mercy...his eyes undress me, his hands sometimes too," she trills. Unfortunately, the film as a whole is rather uneven. The musical numbers look amateurish, and the editing is consistently odd. Worth seeing for Baker and this little window in 1934 France though.
Antonius Block
Super Reviewer
Zou Zou Quotes
There are no approved quotes yet for this movie.