Day 3: 1:00 PM-2:00 PM
EPISODE: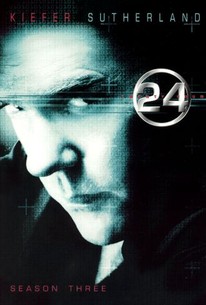 Episode Info
Three years after the biological attempt on President Palmer's (Dennis Haysbert) life (which ended Day 2), Palmer is back in Los Angeles, campaigning for re-election. He's hired his brother, Wayne (D.B. Woodside), as his chief of staff, and he has a clandestine romantic relationship with his personal physician, Dr. Anne Packard (Wendy Crewson). Jack (Kiefer Sutherland) has spent a year undercover, getting close to and then arresting Ramon Salazar (Joaquim de Almeida), a Colombian drug lord. Kim (Elisha Cuthbert) is now a technician at CTU, and is secretly having an affair with Chase (James Badge Dale), a young agent who is working with Jack. Tony (Carlos Bernard) and Michelle (Reiko Aylesworth) are involved, and Michelle is hoping to find a job at Langley when Tony moves to his new position there. Jack and Chase go to the prison where Salazar is supposed to sign an agreement to identify all his terrorist contacts. After signing the agreement, Salazar kills his lawyer with the pen, and warns Jack, "What happens next is on you." Meanwhile, terrorists deposit a diseased corpse at the National Health Services. Dr. Sunny Macir (Christina Chang) eventually tells Tony that the victim died from a weaponized strain of a deadly virus they were studying. The virus will spread rapidly if it is not contained. The FBI gets a call from a terrorist, who threatens to unleash the virus on L.A. if Salazar is not released within six hours. As work begins on the case, Chase confronts Jack about his unsteady mental state, a result of his undercover work. This episode was originally aired without commercial interruption.
Day 3: 1:00 PM-2:00 PM Photos
Discussion Forum
Discuss 24 on our TV talk forum!